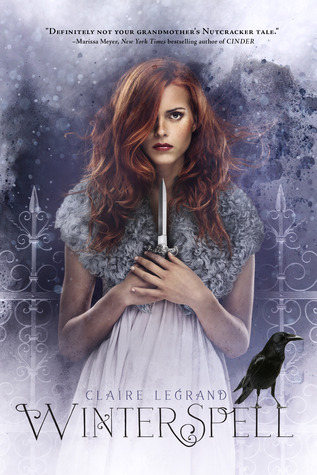 Titel:
Winterspell
Författare:
Claire Legrand
Serie:
Winterspell #1 (Obs! Ingen serie, men det finns både en prequel novell, samt en epilog novell)
Sidor:
454
The clock chimes midnight, a curse breaks, and a girl meets a prince . . . but what follows is not all sweetness and sugarplums.

New York City, 1899. Clara Stole, the mayor's ever-proper daughter, leads a double life. Since her mother's murder, she has secretly trained in self-defense with the mysterious Drosselmeyer.

Then, on Christmas Eve, disaster strikes.

Her home is destroyed, her father abducted--by beings distinctly not human. To find him, Clara journeys to the war-ravaged land of Cane. Her only companion is the dethroned prince Nicholas, bound by a wicked curse. If they're to survive, Clara has no choice but to trust him, but his haunted eyes burn with secrets--and a need she can't define. With the dangerous, seductive faery queen Anise hunting them, Clara soon realizes she won't leave Cane unscathed--if she leaves at all.

Inspired by The Nutcracker, Winterspell is a dark, timeless fairy tale about love and war, longing and loneliness, and a girl who must learn to live without fear.
Winterspell är en bok som fått både bra och dålig kritik, och jag erkänner att jag under en lång tid kände mig väldigt tveksam till att läsa den. Men efter att ha läst en recension som tokhyllade den (på nån amerikansk blogg, kommer inte ihåg vilken), så valde jag att önska mig den i julklapp
och det dröjde sedan inte alls särskilt länge innan jag började läsa den.
Först och främst så måste jag erkänna att jag har ingen koll alls på vad originalhistorian handlar om, och Winterspell är alltså inspirerad av berättelsen och baletten The Nutcracker (Nötknäpparen). Här handlar det dock om en flicka och en prins, magi, faeries, krig, och att övervinna sina rädslor. Hela Winterspell har en magisk känsla över sig och även om det dröjde lite innan jag blev investerad i historien, så har den en speciell känsla över sig och jag hade gärna stannat kvar i den här världen. Språket är dessutom alldeles fantastiskt, det är så stämningsfullt och perfekt för själva berättelsen.
Karaktärerna är dock lite sisådär, och det dröjde väldigt länge innan jag fastnade för Clara. I början var hon så rädd och mesig, och det drev mig halvt till vansinne att hon vägrade att stå upp för sig själv, trots att hon faktiskt hade kunskapen att försvara sig. Men Clara utvcklas ständigt under hela bokens gång, och framåt slutet så hade hon växt oerhört i mina ögon. Nicholas var däremot mest bara tråkig, och jag tyckte aldrig att man riktigt fick lära känna honom. Min favorit var istället Anise, och gud så mycket mer intressant det kunnat vara om man fokuserat mer på attraktionen mellan henne och Clara istället.
Winterspell får plus för handlingen och språket, men minus för karaktärerna. I det stora hela var det dock en bok jag gillade mycket, och jag ser helt klart fram emot att läsa mer av Claire Legrand i fortsättningen.