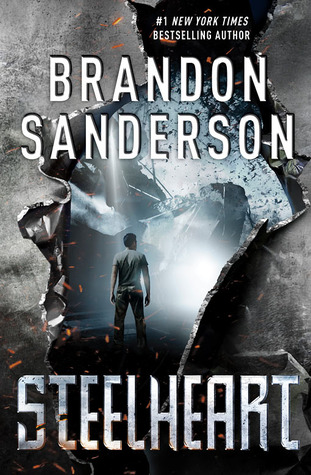 Titel:
Steelheart
Författare:
Brandon Sanderson
Serie:
Reckoners #1
Sidor:
384
Omläsning: Ja
Ten years ago, Calamity came. It was a burst in the sky that gave ordinary men and women extraordinary powers. The awed public started calling them Epics. But Epics are no friend of man. With incredible gifts came the desire to rule. And to rule man you must crush his wills.

Nobody fights the Epics...nobody but the Reckoners. A shadowy group of ordinary humans, they spend their lives studying Epics, finding their weaknesses, and then assassinating them.

And David wants in. He wants Steelheart - the Epic who is said to be invincible. The Epic who killed David's father. For years, like the Reckoners, David's been studying, and planning - and he has something they need. Not an object, but an experience.

He's seen Steelheart bleed. And he wants revenge.
Första gången jag läste den här boken var i November 2013, och av vad jag kommer ihåg så älskade jag den även om jag hade lite svårt för vissa av karaktärerna. Nu när den andra boken har kommit ut, och eftersom en av punkterna på läsutmaningen 2015 är att läsa om en gammal favorit så beslöt jag mig för att göra det med Steelheart, och jag kan bara säga att jag gillade den ännu mer den här gången. Handlingen är verkligen alldeles fantastisk och jag absolut älskar tempot och de onda superhjältarna. Karaktärerna växer även dem i mina ögon, och trots att jag är medveten om plottwisterna så är jag ändå djupt imponerad över dem. Jag har väl egentligen inte så jättemycket mer att tillägga, och min första recension finns att läsa här. Steelheart är en bok jag mer än gärna rekommenderar, och jag är verkligen glad över att jag tog mig tid för en omläsning.
Titel:
Mitosis
Författare:
Brandon Sanderson
Serie:
Reckoners #1.5
Sidor:
35
Spoilervarning! Boken ingår i en serie, spoilers från tidigare böcker förekommer.
Steelheart may be dead, but Epics still plague Newcago and David and the Reckoners have vowed to fight back.
Mitosis är nog en av de bättre mellanböcker jag läst, och trots sitt korta sidantal så hann mycket hända. Den var snabbläst, full av action och bygger upp spänningen inför nästa bok på ett mycket bra sätt. Jag gillade verkligen den här berättelsen och det var så kul att få se ännu en strid mot en ny Epic. Som sagt fick den mig att bli ännu mer taggad på Firefight, och istället för att fortsätta skriva här ska jag nu genast kasta mig över den. Mitosis är inte ett måste för serien, men jag rekommenderar den gärna ändå.