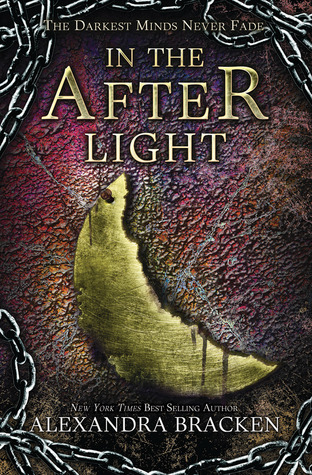 Titel:
In the Afterlight
Författare:
Alexandra Bracken
Serie:
The Darkest Minds #3
Sidor:
535
Spoilervarning! Boken ingår i en serie, spoilers från tidigare böcker förekommer.
Ruby can't look back. Fractured by an unbearable loss, she and the kids who survived the government's attack on Los Angeles travel north to regroup. With them is a prisoner: Clancy Gray, son of the president, and one of the few people Ruby has encountered with abilities like hers. Only Ruby has any power over him, and just one slip could lead to Clancy wreaking havoc on their minds.

They are armed only with a volatile secret: proof of a government conspiracy to cover up the real cause of IAAN, the disease that has killed most of America's children and left Ruby and others like her with powers the government will kill to keep contained. But internal strife may destroy their only chance to free the "rehabilitation camps" housing thousands of other Psi kids.

Meanwhile, reunited with Liam, the boy she would-and did-sacrifice everything for to keep alive, Ruby must face the painful repercussions of having tampered with his memories of her. She turns to Cole, his older brother, to provide the intense training she knows she will need to take down Gray and the government. But Cole has demons of his own, and one fatal mistake may be the spark that sets the world on fire.
Jag älskade den första boken i den här serien när jag läste den för lite mer än två år sedan, och trots att bok två var något av en besvikelse så var det fortfarande en bok jag gillade mycket. Mina förväntningar på den här avslutande delen var därför riktigt höga, och även om jag tyckte om den så levde den inte riktigt upp till förväntningarna.
In the Afterlight är en bra bok, det är ingen tvekan om den saken. Men trots det så tycker jag att Bracken har tappat mycket av det som var så bra i The Darkest Minds, och ärligt talat så är jag faktiskt lite besviken nu. Handlingen var för det mesta spännande, även fast att det faktiskt inte hände särskilt mycket förrän i slutet, men samtidigt så kände jag mig inte riktigt investerad i den. Jag är dessutom väldigt besviken på att Bracken har tagit udden av, markera för spoilers -->
två dödsfall i den här serien. Varken vid Judes i Never Fade, eller när det gäller Cole här, så har jag blivit berörd. Hon liksom hoppar över själva dödsscenerna, och det är inte förrän det redan hänt som man får reda på det. Jag, som dessutom gråter för det mesta, känner här ingenting alls, tyvärr
, spoilers slut.
Karaktärerna tog också ett kliv tillbaka, och jag var för det mesta bara less på både Ruby och Liam. Less på att de inte kunde prata med varandra, less på att Liam var så himla naiv, och less på att Ruby inte listade ut hur allt (spoilers -->
läs Clancy
, spoilers slut) låg till innan det var försent. Jag gillar dock att vi fick träffa Zu igen, och jag tycker om Chubs, Vida, Nico och Cole (det är faktiskt så att jag gillar bi-karaktärerna mer än huvudkaraktärerna).
Slutet var ganska bra, men samtidigt så känner jag lite samma som jag nämnde i spoilerpunkten ovan, det är liksom över men man får inte se själva händelserna. Jag känner mig lite rånad på det som annars kunnat vara riktigt bra action. Jag hade också velat veta mer om vad som hände sen, och jag är inte helt nöjd med hur vi lämnade allt.
In the Afterlight var både en besvikelse och en bra bok. Jag hade önskat mig mer, men jag tyckte samtidigt fortfarande om den. Den levde inte upp till sin potential, men det här är ändå en serie jag gärna rekommenderar till dig som är intresserad.