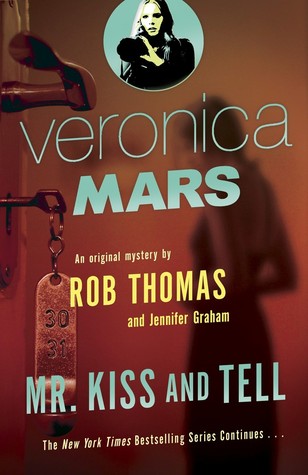 Titel:
Mr. Kiss and Tell
Författare:
Rob Thomas & Jennifer Graham
Serie:
Veronica Mars #2
Sidor:
330
Spoilervarning! Boken ingår i en serie, spoilers från tidigare böcker förekommer.
The Neptune Grand has always been the seaside town's ritziest hotel, despite the shady dealings and high-profile scandals that seem to follow its elite guests. When a woman claims that she was brutally assaulted in one of its rooms and left for dead by a staff member, the owners know that they have a potential powder keg on their hands. They turn to Veronica to disprove—or prove—the woman's story.

The case is a complicated mix of hard facts, mysterious occurrences, and uncooperative witnesses. The hotel refuses to turn over its reservation list and the victim won't divulge who she was meeting that night. Add in the facts that the attack happened months ago, the victim's memory is fuzzy, and there are holes in the hotel's surveillance system, and Veronica has a convoluted mess on her hands. As she works to fill in the missing pieces, it becomes clear that someone is lying—but who? And why?
Veronica Mars är, som jag tidigare nämnt, en av mina absoluta favoritserier, och jag är så glad över att den nu har fortsatt med både en film och i bok form. Mr. Kiss and Tell är den andra boken i VM serien
, och det var en bok som jag absolut älskade.
Handlingen var som vanligt väldigt spännande, men även om jag gillade fallet i boken, så var det bästa faktiskt relationen mellan Logan och Veronica och allt som hände med Neptunes poliskår och omvalet. Frågor som ställdes redan i filmen fick här sina svar, men trots att jag gillar upplösningen i boken så har jag fortfarande saker jag undrar över, och jag kan inte låta bli att hoppas på att det ska komma ännu fler böcker.
Karaktärerna är ju alla helt fenomenala, och jag absolut älskar Veronica. Hon är så härlig, sarkastisk, och tuff, och jag älskar att hennes tankar låter precis som i TV-serien. Jag älskar även Logan, och han och Veronica har varit mitt OTP så länge. Jag gillar verkligen att vi fick mer av deras relation här, även om jag, precis som Veronica, inte är helt nöjd med var boken lämnade oss. I övrigt så älskar jag alla de gamla karaktärerna med, allra helst Keith, Mac, Weevil, och Wallace (som var med på tok för lite här).
Mr. Kiss and Tell är en fantastisk fortsättning på serien, och jag älskar att vi äntligen får våran fortsättning. Dock lämnar den mig med en önskan om mer, och när det gäller Veronica Mars så hoppas jag på att aldrig behöva säga hejdå. Rekommenderas varmt.