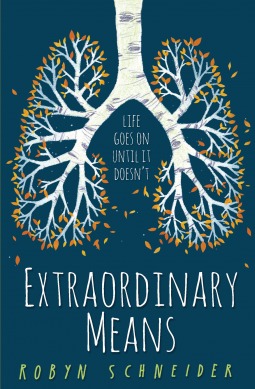 Titel:
Extraordinary Means
Författare:
Robyn Schneider
Serie:
-
Sidor:
324
When he's sent to Latham House, a boarding school for sick teens, Lane thinks his life may as well be over.
But when he meets Sadie and her friends - a group of eccentric troublemakers - he realises that maybe getting sick is just the beginning. That illness doesn't have to define you, and that falling in love is its own cure.
Jag har länge varit nyfiken på Robyn Schneider som författare, och har nu under den senaste tiden skaffat hem ett par av hennes böcker. Extraordinary Means var den första jag gav mig på, och tyvärr måste jag säga att jag faktiskt blev aningen besviken på den.
Handlingen känns lite som en blandning av John Greens böcker The Fault in Our Stars och Looking for Alaska, och jag var väldigt förtjust i själva storyn. Tanken på det här hemmet och den här sjukdomen var båda mycket fascinerande och Schneiders efterforskning om tuberkulos är dessutom mycket bra och detaljerad, och det gör det väldigt lätt att tänka att det faktiskt skulle kunna inträffa. I övrigt så tyckte jag även mycket om språket, och jag gillade tanken på romansen, trots att jag inte riktigt föll för karaktärerna.
Och karaktärerna var alltså mitt största problem med boken. Det var inte så att jag ogillade dem, eller att de inte var levande nog, det var bara något som fattades för att jag skylle bry mig om dem. Lane var lite för tråkig och Sadie var lite för mycket och i slutänden så var de inte tillräckliga. Samma sak gällde bi-karaktärerna. Jag var dessutom inte helt förtjust i de otroligt dumma valen vissa av karaktärerna gjorde (spoilers -->

som att gå in till staden och riskera att smitta en massa andra, eller att fortsätta med smuggelgodset när slutet ändå var så nära

, spoilers slut) och det gjorde att
de sjunk ännu mer i mina ögon.
Extraordinary Means var en ganska bra bok, och om jag fastnat för karaktärerna hade den kunnat vara helt fantastisk. Jag hoppas att jag ska tycka mer om Schniders nästa bok, men samtidigt så rekommenderar jag gärna den här till dig som är intresserad.