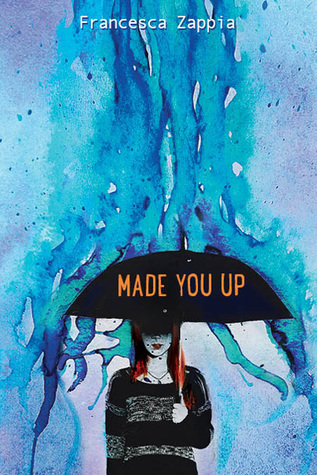 Titel:
Made You Up
Författare:
Francesca Zappia
Serie:
-
Sidor:
428
Reality, it turns out, is often not what you perceive it to be—sometimes, there really is someone out to get you. Made You Up tells the story of Alex, a high school senior unable to tell the difference between real life and delusion.

Alex fights a daily battle to figure out the difference between reality and delusion. Armed with a take-no-prisoners attitude, her camera, a Magic 8-Ball, and her only ally (her little sister), Alex wages a war against her schizophrenia, determined to stay sane long enough to get into college. She's pretty optimistic about her chances until classes begin, and she runs into Miles. Didn't she imagine him? Before she knows it, Alex is making friends, going to parties, falling in love, and experiencing all the usual rites of passage for teenagers. But Alex is used to being crazy. She's not prepared for normal.

Funny, provoking, and ultimately moving, this debut novel featuring the quintessential unreliable narrator will have readers turning the pages and trying to figure out what is real and what is made up.
Den här boken hamnade på min att läsa lista så fort jag hörde talas om den, och trots att mina förväntningar var höga när jag väl började att läsa den så hade jag ändå inte trott att jag skulle komma att tycka så mycket om den. Men Made You Up var så himla fantastisk
och jag föll genast för boken.
Handlingen var väldigt speciell och jag gillade särskilt hur väl Alex sjukdom porträtteras. Just att man aldrig riktigt visste vad som var riktigt eller inte gav både en inblick i hennes schizofreni samt gjorde det mer eller mindre omöjligt att sluta läsa. Det finns så mycket jag vill säga om den här boken, men samtidigt så vill jag inte riskera att spoila något så jag slutar att prata om handlingen här, och hoppas istället att ni får uppleva den själva..
Karaktärerna var fantastiska, och allra helst Alex var en stor favorit hos mig. Jag gillade hennes styrka, humor och att hon aldrig gav upp. Även Miles var oerhört charmig, och romansen mellan de båda var så himla fin. Jag tyckte dessutom mycket om Tucker, Charlie och trillingarna, men det var samtidigt lite tråkigt att inte bi-karaktärerna fick en större roll (och det är även det enda klagomålet jag har).
Made You Up var en alladeles enastående bok och jag absolut älskade allt med den. Den får en given plats på favorithyllan och jag ser fram emot att få läsa mer av Fracesca Zappia i framtiden. Rekommenderas varmt.
Favoritcitat:
"I didn't have the luxury of taking reality for granted. And I wouldn't say I hated people who did, because that's just about everyone. I didn't hate them. They didn't live in my world.
But that never stopped me from wishing I lived in theirs."