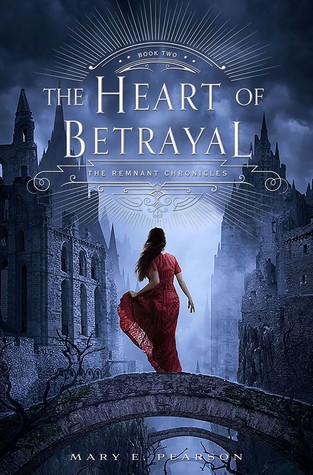 Titel:
The Heart of Betrayal
Författare:
Mary E. Pearson
Serie:
The Remnant Chronicles #2
Sidor:
470
Spoilervarning! Boken ingår i en serie, spoilers från tidigare böcker förekommer.
Held captive in the barbarian kingdom of Venda, Lia and Rafe have little chance of escape. Desperate to save her life, Lia's erstwhile assassin, Kaden, has told the Vendan Komizar that she has the gift, and the Komizar's interest in Lia is greater than anyone could have foreseen.

Meanwhile, nothing is straightforward: there's Rafe, who lied to Lia, but has sacrificed his freedom to protect her; Kaden, who meant to assassinate her but has now saved her life; and the Vendans, whom Lia always believed to be barbarians. Now that she lives amongst them, however, she realizes that may be far from the truth. Wrestling with her upbringing, her gift, and her sense of self, Lia must make powerful choices that will affect her country... and her own destiny.
Jag läste första boken i den här serien för ett år sedan och absolut älskade den. Sedan dess har jag längtat efter den här uppföljaren, och jag måste säga att den helt klart levde upp till förväntningarna.

Handlingen var väldigt spännande, även om den är ganska långsam ända fram till slutet (precis som i den första boken). Det händer väl egentligen inte så jättemycket, men jag är väldigt förtjust i världen och det var absolut nödvändigt att låta det ta sin tid i Venda. Boken är dessutom full av spännande twister, många som jag inte alls såg komma, och slutet gjorde att jag redan nu längtar halvt ihjäl mig efter nästa bok.

Av karaktärerna så tycker jag mycket om Lia. Hon är smart, modig och stark, och helt klart en mycket beundransvärd karaktär. Jag tycker dessutom mycket om Rafe, men är betydligt mindre förtjust i Kaden. Och nu till lite spoilers angående Lias kärleksliv, markera för att läsa --> Rafe har ju varit min favorit hela tiden, och jag har väldigt svårt för Kaden. Mest för att jag faktiskt inte tycker att hans kärlek är äkta. Och jag måste säga att det var så mycket Kaden i den här boken att jag var rädd
att han skulle ta över som kärleksintresse. Men som tur är så hände inte det..även om jag kommer att oroa mig ändå tills jag vet med säkerhet att Lia och Rafe slutar upp tillsammans, spoilers slut.

The Heart of Betrayal var en mycket värdig uppföljare och den här serien är en av mina fantasy favoriter. Jag kan knappt vänta på att få läsa den sista boken i serien, och jag grämer mig lite för att jag måste vänta ett helt år. Rekommenderas varmt.