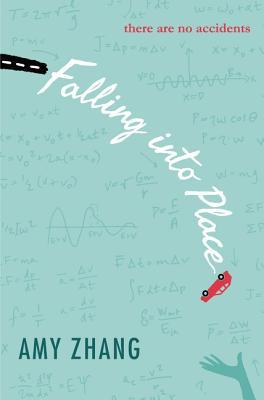 Titel:
Falling into Place
Författare:
Amy Zhang
Serie:
-
Sidor:
296
On the day Liz Emerson tries to die, they had reviewed Newton's laws of motion in physics class. Then, after school, she put them into practice by running her Mercedes off the road.

Why? Why did Liz Emerson decide that the world would be better off without her? Why did she give up? Vividly told by an unexpected and surprising narrator, this heartbreaking and nonlinear novel pieces together the short and devastating life of Meridian High's most popular junior girl. Mass, acceleration, momentum, force—Liz didn't understand it in physics, and even as her Mercedes hurtles toward the tree, she doesn't understand it now. How do we impact one another? How do our actions reverberate? What does it mean to be a friend? To love someone? To be a daughter? Or a mother? Is life truly more than cause and effect? Amy Zhang's haunting and universal story will appeal to fans of Lauren Oliver, Gayle Forman, and Jay Asher.
Jag var så här nära att inte köpa den här boken. Jag lade faktiskt ifrån mig den igen innan jag till sist tog med den till kassan. Och jag lovar att jag skulle ha ångrat mig så (även om jag inte skulle veta varför), för Falling into Place är helt klart en bok jag aldrig skulle velat vara utan.
Handlingen var så fruktansvärt hjärtskärande och det var länge sedan jag grät så här mycket till en bok. Jag älskar sättet den är berättad på, och det lilla mysteriet om vem berättarrösten faktiskt är. Jag älskar att alla har sina problem, att ingen är riktigt lycklig, och att mitt hjärta krossades om och om igen på var och varannan sida. Språket är dessutom helt fantastiskt, och det gör mig väldigt imponerad att Amy Zhang var en high school student när hon skrev den här boken. Falling into Place var helt enkelt makalöst bra, och det fanns inget jag inte älskade med den
Karaktärerna var alla så äkta och det var omöjligt att inte hoppas på det bästa för dem. Allra helst Liz fann jag väldigt fascinerande. Hon var så trasig och trots att det var svårt att tycka om henne ibland, så kunde jag ändå inte låta bli att älska henne. Även Julia, Kennie och Liam berörde mig mycket, och jag tyckte så mycket om dem.
Falling into Place var en riktig överraskning, men jag är så glad över att ha fått läsa den. Jag tror att Amy Zhang har potentialen att bli en enastående författare, och personligen så längtar jag oerhört efter hennes nästa bok. Rekommenderas varmt!
Favoritcitat:
"Because Liz Emerson held so much darkness within her that closing her eyes didn't make much of a difference at all."
"She had been desperate to feel something, anything. She needed a window, because she had broken her heart throwing it at locked doors."