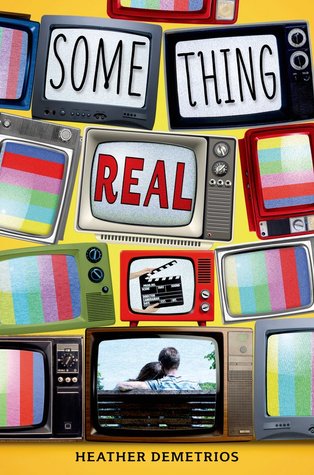 Titel:
Something Real
Författare:
Heather Demetrios
Serie:
Something Real #1 (kommer en companion upplevelse om en av bi-karaktärerna)
Sidor:
404
Seventeen-year-old Bonnie™ Baker has grown up on TV—she and her twelve siblings are the stars of one-time hit reality show Baker's Dozen. Since the show's cancellation and the scandal surrounding it, Bonnie™ has tried to live a normal life, under the radar and out of the spotlight. But it's about to fall apart…because Baker's Dozen is going back on the air. Bonnie™'s mom and the show's producers won't let her quit and soon the life she has so carefully built for herself, with real friends (and maybe even a real boyfriend), is in danger of being destroyed by the show. Bonnie™ needs to do something drastic if her life is ever going to be her own—even if it means being more exposed than ever before.
Jag har egentligen aldrig varit särskilt intresserad av Something Real, och ärligt talat så vet jag inte varför. Men efter att ha sett en väldigt positiv recension hos Therése på Kattugglan så hamnade den genast på min att läsa lista och jag köpte hem den ganska så snarast. Och nu i efterhand vill jag bara ge ett stort tack till Therése, för wow, vilken bok.
Handlingen var väldigt fascinerande och den påminde mig lite om boken Reality Boy (vilken jag älskade). Båda handlar om tonåringar som varit reality stjärnor mot sin vilja, och det är ett mycket intressant koncept som genast får en att fundera över dagens reality TV och var det hela egentligen är på väg. Redan från början så föll jag för den här boken, och det var i princip omöjligt att sluta läsa. Something Real lyckades med att vara gripande, charmig och romantisk, samtidigt som den emellanåt gjorde mig alldeles rosenrasande med tanke på de stackarns barnen och deras levnadssituation. Ett absolut måste att läsa.
Bonnie, eller Chloe som hon vill bli kallad, var en väldigt intressant karaktär och jag älskade att följa hennes utveckling. Jag hade lite svårt för hur hon hela tiden flydde från sina problem (samtidigt som jag faktiskt mycket väl förstår varför), men det var absolut oslagbart när hon äntligen började stå upp för sig själv och jag gillade verkligen den hon blev i slutet. Jag tyckte dessutom mycket om Patrick och deras relation var så fin. I övrigt så älskade jag Benton (världens finaste bror), tyckte mycket om Lexie, Matt (den röda t-shirten), Tessa och Mer, och jag fullkomligt avskydde mamman, Kirk och Chuck.
Something Real var en alldeles fantastisk bok, och jag är så glad att jag gav den en chans. En av mina absoluta contemporary favoriter, och som jag rekommenderar absolut alla att läsa.