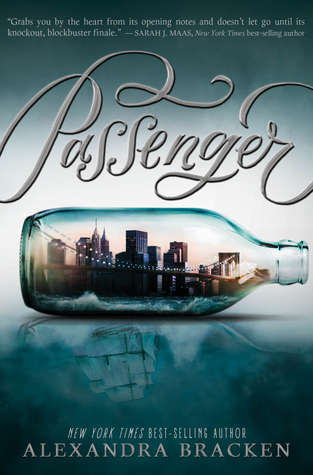 Titel:
Passenger
Författare:
Alexandra Bracken
Serie:
Passenger #1
Sidor:
486
In one devastating night, violin prodigy Etta Spencer loses everything she knows and loves. Thrust into an unfamiliar world by a stranger with a dangerous agenda, Etta is certain of only one thing: she has traveled not just miles but years from home. And she's inherited a legacy she knows nothing about from a family whose existence she's never heard of. Until now.

Nicholas Carter is content with his life at sea, free from the Ironwoods—a powerful family in the colonies—and the servitude he's known at their hands. But with the arrival of an unusual passenger on his ship comes the insistent pull of the past that he can't escape and the family that won't let him go so easily. Now the Ironwoods are searching for a stolen object of untold value, one they believe only Etta, Nicholas' passenger, can find. In order to protect her, he must ensure she brings it back to them— whether she wants to or not.

Together, Etta and Nicholas embark on a perilous journey across centuries and continents, piecing together clues left behind by the traveler who will do anything to keep the object out of the Ironwoods' grasp. But as they get closer to the truth of their search, and the deadly game the Ironwoods are play­ing, treacherous forces threaten to sep­arate Etta not only from Nicholas but from her path home . . . forever.
Jag har tidigare läst Alexandra Brackens The Darkest Minds serie, och tyckt mycket om den. Trots det var jag faktiskt inte så peppad på Passenger, och om det inte vore för att den fått så strålande recensioner så hade jag nog faktiskt inte plockat upp den. Men som tur var gjorde jag det, och jag tyckte så mycket om den.

Handlingen var väldigt intressant och spännande. Jag gillar förklaringarna man får till tidsresorna, och det var så fascinerande att se alla olika tidsperioder de reste till. Jag fastnade för boken redan i början, men så här i efterhand kan jag tycka att den kunde bli lite väl långdragen emellanåt. Tempot flöt inte riktigt som det skulle, och det är just det som gör att den inte riktigt når en favoritstatus i mina ögon. Slutet var dock sjukt bra och så himla spännande. Jag kan lugnt säga att jag längtar halvt ihjäl mig efter nästa bok.

Av karaktärerna så gillade jag både Etta och Nicholas. Men framför allt Etta. Hon var smart, modig och charmig. Jag gillar särskilt hur hon hanterade de olika tidsperioderna, och hur lugn hon var trots att hela hennes liv vändes upp och ner. Nicholas var charmig, men av någon anledning föll jag inte riktigt för honom. Jag kan också tycka att deras relation gick lite för fort fram, men samtidigt var den väldigt fin.

Passenger var en positiv överraskning, och en bok jag tyckte väldigt mycket om. Om ni söker en spännande bok om tidresor så är det här helt klart den rätta, och efter det där slutet så kan jag inte göra annat än att börja räkna ner dagarna tills uppföljaren kommer. Rekommenderas.