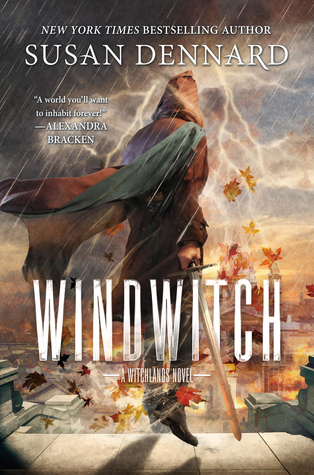 Titel:
Windwitch
Författare:
Susan Dennard
Serie:
The Witchlands #2
Sidor:
377
Spoilervarning! Boken ingår i en serie, spoilers från tidigare böcker förekommer.
After an explosion destroys his ship, the world believes Prince Merik, Windwitch, is dead. Scarred yet alive, Merik is determined to prove his sister's treachery. Upon reaching the royal capital, crowded with refugees, he haunts the streets, fighting for the weak—which leads to whispers of a disfigured demigod, the Fury, who brings justice to the oppressed.

When the Bloodwitch Aeduan discovers a bounty on Iseult, he makes sure to be the first to find her—yet in a surprise twist, Iseult offers him a deal. She will return money stolen from him, if he locates Safi. Now they must work together to cross the Witchlands, while constantly wondering, who will betray whom first?

After a surprise attack and shipwreck, Safi and the Empress of Marstok barely escape with their lives. Alone in a land of pirates, every moment balances on a knife's edge—especially when the pirates' next move could unleash war upon the Witchlands.
Truthwitch var en av mina favoritböcker förra året (och någonsin), så förväntningarna på uppföljaren Windwitch har definitivt varit höga. Och självklart levde den även upp till dessa, och serien kommer definitivt att hamna i toppen bland mina favoriter i år med.

Handlingen var så spännande och jag absolut älskar den här världen. Magikerna med alla deras krafter är så fascinerande, och det är näst intill omöjligt att sluta läsa. Dessutom känns det som att det finna så mycket mer att utforska, att vi bara har sett början på allt, och jag längtar ihjäl mig efter att få veta mer. Det enda jag kan tycka känns lite tråkigt är att de flesta av karaktärerna hade sina egna resor i den här boken, och jag saknade samspelet mellan dem, vilket var en del av det som gjorde att den första boken var så bra. Men missförstå mig inte, för Windwitch var ändå minst lika bra som Truthwitch och jag fann det så spännande att följa allas olika resor.

När det kommer till karaktäerna tycker jag så mycket om Safi och Iseault. Deras relation är verkligen superb och jag längtar att få se mer av de båda tillsammans. Jag gillar även Merik och Aeduan mycket. Intressantast i den här boken var dock Vivia, och hon var så mycket mer komplex än vad jag först hade trott. Jag hoppas verkligen att vi får fortsätta att följa henne genom seriens gång också.

Windwitch är ett väldigt fängslande fantasyäventyr, och ett som jag absolut älskar. Rekommenderas varmt.