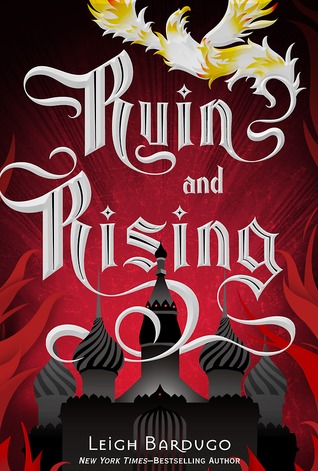 Titel:
Ruin and Rising
Författare:
Leigh Bardugo
Serie:
The Grisha #3
Sidor:
417
Spoilervarning! Boken ingår i en serie, spoilers från tidigare böcker förekommer.
The capital has fallen. The Darkling rules Ravka from his shadow throne.

Now the nation's fate rests with a broken Sun Summoner, a disgraced tracker, and the shattered remnants of a once-great magical army.

Deep in an ancient network of tunnels and caverns, a weakened Alina must submit to the dubious protection of the Apparat and the zealots who worship her as a Saint. Yet her plans lie elsewhere, with the hunt for the elusive firebird and the hope that an outlaw prince still survives.

Alina will have to forge new alliances and put aside old rivalries as she and Mal race to find the last of Morozova's amplifiers. But as she begins to unravel the Darkling's secrets, she reveals a past that will forever alter her understanding of the bond they share and the power she wields. The firebird is the one thing that stands between Ravka and destruction—and claiming it could cost Alina the very future she's fighting for.
Efter att ha läst Siege and Storm i början av den här månaden (läs Juni) och blivit alldeles förbluffad över hur mycket jag gillade den, så har jag väntat på att få läsa Ruin och Rising. Den här serien har bara blivit bättre och bättre i mina ögon, och jag absolut älskade den här boken.
Det finns i princip inget jag kan säga om handlingen utan att spoila något, men jag fann den både spännande och hjärtskärande vacker. Jag absolut avgudade varenda sida, och jag är väldigt nöjd över hur det hela slutade. Bittersweet är ordet, och en alldeles fantastisk bok.
Alina har hela tiden växt i mina ögon, och efter den här boken har jag inget ont alls att säga om henne. Hon är så modig, och jag gillar henne mycket. Även Mal och The Darkling växte i mina ögon, och jag är väldigt glad över att äntligen ha fått höra The Darklings bakgrundshistoria. Min favorit är dock fortfarande Nikolai, och jag absolut älskade honom i den här boken.
Även bi-karaktärerna var fascinerande och mer eller mindre älskvärda. Mina favoriter var Genya, David, Zoya, Tolya och Tamar.
Så några spoilers angående slutet, markera för att läsa;
-
Alltså slutet var både fantastiskt bra, och otroligt sorgligt. Jag grät oerhört när Alina dödade Mal, och chockerades när hon förlorade sina krafter. Trots att jag hellre hade sett Alina tillsammans med Nikolai, så förstår jag hennes val. Jag är övertygad om att Alina och Nikolai kunnat uträtta stordåd, men faktiskt så ville hon ju aldrig ha några krafter till att börja med. Så även om Nikolai är mitt personliga val, så är jag nöjd med att låta Alina göra sitt eget. Nu fick hon ju istället sitt vanliga liv, och det hon alltid önskat sig, tillsammans med Mal, och även om det kändes väldigt bittersweet, så absolut älskade jag det. Epilogen var sjukt fin, och även den fick mig att gråta. Kanske bland det bästa med boken faktiskt.
spoilers slut.
Med Ruin and Rising har Leigh Bardugo tagit en plats bland mina absoluta favoritförfattare, och jag ser redan nu fram emot hennes nästa bok (som också utspelar sig i the Grishaverse, yay!). En fenomenal bok, och jag ser redan fram emot en framtida omläsning av den här serien. Rekommenderas varmt.
Favoritcitat:
"Na razrusha'ya. E'ya razrushost. I am not ruined. I am ruination."
"He leaned against the window, and the gilded frame came into sharp focus. "Do you think it would be any different with your tracker beside you? With that Lantsov pup?"
"Yes," I said simply.
"Because you would be the strong one?"
"Because they're better men than you."
"You might make me a better man."
"And you might make me a monster."
"I saw the prince when I was in Os Alta," said Ekaterina. "He's not bad looking."
"Not bad looking?" said another voice. "He's damnably handsome."
Luchenko scowled. "Since when—"
"Brave in battle, smart as a whip." Now the voice seemed to be coming from above us. Luchenko craned his neck, peering into the trees. "An excellent dancer," said the voice. "Oh, and an even better shot."
"Who—" Luchenko never got to finish. A blast rang out, and a tiny black hole appeared between his eyes.
I gasped. "Imposs—"
"Don't say it," muttered Mal."