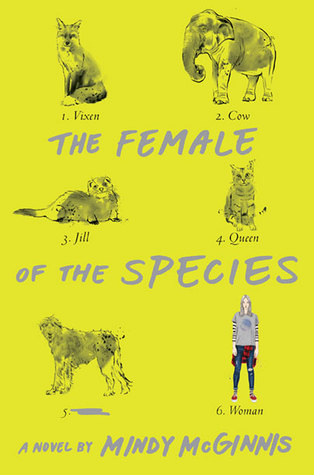 Titel:
The Female of the Species
Författare:
Mindy McGinnis
Serie:
-
Sidor:
341
Alex Craft knows how to kill someone. And she doesn't feel bad about it.

Three years ago, when her older sister, Anna, was murdered and the killer walked free, Alex uncaged the language she knows best—the language of violence. While her own crime goes unpunished, Alex knows she can't be trusted among other people. Not with Jack, the star athlete who wants to really know her but still feels guilty over the role he played the night Anna's body was discovered. And not with Peekay, the preacher's kid with a defiant streak who befriends Alex while they volunteer at an animal shelter. Not anyone.

As their senior year unfolds, Alex's darker nature breaks out, setting these three teens on a collision course that will change their lives forever.
Det här är en sådan svår bok att recensera att jag inte ens kommer att försöka. Vad jag kan säga är dock att den behandlar många tunga ämnen; sexuella övergrepp, mord, hämnd och död. Det var en bok jag genast fastnade för, och nu när den är över så känns det som ett slag i magen och jag har svårt att andas. Den berörde mig oerhört, och det kommer att dröja innan jag smält den. The Female of the Species är definitivt värd att läsa, men var beredd på att den inte alltid är lätt att läsa. Rekommenderas varmt.
Titel:
The Hammer of Thor
Författare:
Rick Riordan
Serie:
Magnus Chase and the Gods of Asgard #2
Sidor:
471
Spoilervarning! Boken ingår i en serie, spoilers från tidigare böcker förekommer.
Thor's hammer is missing again. The thunder god has a disturbing habit of misplacing his weapon--the mightiest force in the Nine Worlds. But this time the hammer isn't just lost, it has fallen into enemy hands. If Magnus Chase and his friends can't retrieve the hammer quickly, the mortal worlds will be defenseless against an onslaught of giants. Ragnarok will begin. The Nine Worlds will burn. Unfortunately, the only person who can broker a deal for the hammer's return is the gods' worst enemy, Loki--and the price he wants is very high.
The Hammer of Thor är bok två i en av mina favoritserier, Magnus Chase and the Gods of Asgard. Som vanligt med Rick Riordans böcker så är den fylld av action, humor och spännande mytologi. Jag gillar särskilt den här serien eftersom den innehåller den nordiska mytologin (som jag pinsamt nog anser vara den jag vet minst om). The Hammer of Thor var en fantastisk bok, och jag älskar världen, karaktärerna och handlingen. Stort plus också för den mångfald som boken innehåller. Givetvis hamnar den bland favoritböckerna, och jag rekommenderar mer än gärna den här serien.