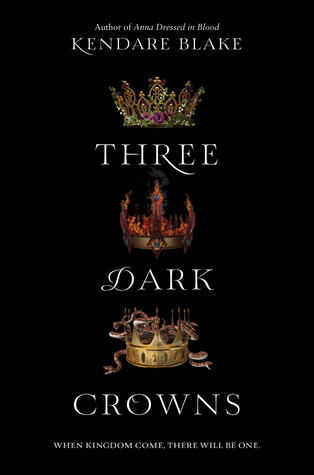 Titel:
Three Dark Crowns
Författare:
Kendare Blake
Serie:
Three Dark Crowns #1
Sidor:
398
Every generation on the island of Fennbirn, a set of triplets is born: three queens, all equal heirs to the crown and each possessor of a coveted magic. Mirabella is a fierce elemental, able to spark hungry flames or vicious storms at the snap of her fingers. Katharine is a poisoner, one who can ingest the deadliest poisons without so much as a stomachache. Arsinoe, a naturalist, is said to have the ability to bloom the reddest rose and control the fiercest of lions.

But becoming the Queen Crowned isn't solely a matter of royal birth. Each sister has to fight for it. And it's not just a game of win or lose…it's life or death. The night the sisters turn sixteen, the battle begins. The last queen standing gets the crown.
Jag har gillat/älskat allt jag läst av Kendare Blake, så givetvis var hennes nya bok, Three Dark Crowns, ett måste på min att läsa lista. Och jag kan glatt säga att jag tyckte så mycket om den.

Handlingen kan te sig aningen långsam emallanåt, men jag älskade den. Det var så mycket intriger, karaktärerna var så intressanta, och det hela är en väldigt mörk berättelse. Jag fann det hela att vara väldigt spännande, och jag kunde inte låta bli att heja på alla systrarna. Även om jag definitivt önskar att de inte ska låta sig styras så mycket i nästa bok. Slutet var dessutom fantastiskt, och jag har så mycket jag funderar över nu. Väntan på nästa bok kommer helt klart att bli lång.

Det är svårt att välja favortit bland karaktärerna, och jag gillade Katharine, Mirabella och Arsinoe mycket. Mirabella var kanske den mest sympatiska, men Katharine hade en sådan intressant utveckling. Och jag längtar efter att se vad som kommer att hända med Arsinoe i nästa bok. Även flera av bi-karaktärerna var intressanta, och jag tyckte särskilt mycket om Jules. Det finns dessutom många potentiella romanser, och jag längtar efter att få ser mer av dessa.

Three Dark Crowns är en mörk och spännande fantasybok, och en som definitivt hamnar bland mina favoriter. Rekommenderas varmt.