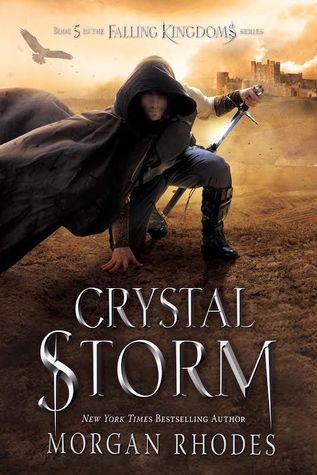 Titel:
Crystal Storm
Författare:
Morgan Rhodes
Serie:
Falling Kingdoms #5
Sidor:
379
Spoilervarning! Boken ingår i en serie, spoilers från tidigare böcker förekommer.
The ruthless Empress Amara of Kraeshia has taken the Mytican throne, and now uncertainty looms over the three kingdoms. Since Lucia unleashed the fire Kindred, wreaking havoc throughout the land, Myticans have been looking for someone—anyone—they can trust. They believe in Amara, not knowing her grand promises are built on lies.

In Paelsia, Magnus and Cleo reluctantly follow King Gaius to the home of his exiled mother, Selia. Selia is a powerful witch and claims she can help unlock the magic of the Kindred—if the visitors agree to her terms. When Jonas arrives from Kraeshia, he is shocked to find that his rebel army now includes his sworn enemies. Along with Nic, Felix, and the mysteriously resurrected Ashur, the contentious group agrees to cast aside old grudges—for now—and united against their common enemy: Amara.

Meanwhile, bearing the child of a Watcher and feared by all, Princess Lucia travels across Mytica to find her family. But time is running out. The impending storm signals the dark prophecy Timotheus warned her about. Her fate is written, and it includes none other than the rebel Jonas. When their paths collied, Jonas and Lucia must decide between blindly following their destiny or fighting for their own free will.

The battle for power culminates at the Paelsian palace, where Amara resides. Rain pours. Blood spills. And soon all will discover that the darkest magic comes at an even darker price.
Det här är en av mina favoritserier, och varje bok blir bara bättre och bättre. Så förväntningarna på Crystal Storm var riktigt höga. Och självklart så var jag mer än nöjd, och den är helt klart min favorit än så länge.

Handlingen...åh, vad ska man säga om handlingen när det har kommit till femte boken? Den är vansinnigt spännande. Jag älskar världen, både den i Mytica och den med alla Watchers. Det här med de olika elementen är också väldigt fascinerande. Dessutom gillar jag alla intriger mellan karaktärerna. Och slutet. Alltså slutet! Hur kunde du, Rhodes?!

Mina favoritkaraktärer här är Cleo och Magnus. Dem är dessutom mitt kanske största OTP för tillfället. Relationen mellan de båda har växt fram under seriens gång, och gått från hat till kärlek. Jag hade velat ha lite mer romans i den här boken dock, och jag tröttnar lite på alla missförstånd som uppstår. Låt mitt OTP var lyckliga istället! Både Lucia och Jonas har växt i mina ögon (den som kommer ihåg mina recensioner på de första böckerna kanske minns hur mycket jag hatade Jonas där), och det gillar jag. Dessutom finns det en massa intressanta bi-karaktärer att följa.

Crystal Storm var klockren. Spännande, magisk och alldeles fantastiskt. Och med en sådan elak cliffhanger att jag kommer att längta ihjäl mig i väntan på den sjätte boken. Rekommenderas varmt.