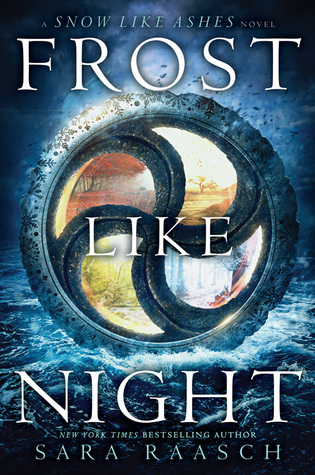 Titel:
Frost Like Night
Författare:
Sara Raasch
Serie:
Snow Like Ashes #3
Sidor:
483
Spoilervarning! Boken ingår i en serie, spoilers från tidigare böcker förekommer.
Angra is alive, his Decay is spreading—and no one is safe.

Meira will do anything to save her world. With Angra trying to break through her mental defenses, she desperately needs to learn to control her own magic—so when the leader of a mysterious Order from Paisly offers to teach her, Meira jumps at the chance. But the true solution to stopping the Decay lies in a labyrinth deep beneath the Season Kingdoms.

Mather will do anything to save his queen. He needs to rally the Children of the Thaw, find Meira—and finally tell her how he really feels. But with a plan of attack that leaves no kingdom unscathed and a major betrayal within their ranks, winning the war—and protecting Meira—slips farther and farther out of reach.

Ceridwen will do anything to save her people. Angra had her brother killed, stole her kingdom, and made her a prisoner. But when she's freed by an unexpected ally who reveals a shocking truth behind Summer's slave trade, Ceridwen must take action to save her true love and her kingdom, even if it costs her what little she has left.

As Angra unleashes the Decay on the world, Meira, Mather, and Ceridwen must bring the kingdoms of Primoria together…or lose everything.
Frost Like Night är den avslutande delen i Snow Like Ashes trilogin, som jag har tyckt mycket om, och jag har varit väldigt nyfiken på hur det skulle sluta. I det stora hela så har jag varit väldigt förtjust i den här serien, men jag måste erkänna att första boken var min favorit. Jag kan inte riktigt komma över vad författaren gjorde med min favoritkaraktär dock, och eftersom den romansen var en av mina favoritdelar med första boken så är det inte konstigt att jag känner mig aningen besviken. Handlingen var dock spännande, och jag gillade slutet mycket. Men som sagt, första boken var den bästa. Trots det så rekommenderar jag gärna serien till den som är sugen på en fängslande high fantasy upplevelse.

8 / 10
Titel:
The False Prince
Författare:
Jennifer A. Nielsen
Serie:
The Ascendance Trilogy #1
Sidor:
342
In a discontent kingdom, civil war is brewing. To unify the divided people, Conner, a nobleman of the court, devises a cunning plan to find an impersonator of the king's long-lost son and install him as a puppet prince. Four orphans are recruited to compete for the role, including a defiant boy named Sage. Sage knows that Conner's motives are more than questionable, yet his life balances on a sword's point—he must be chosen to play the prince or he will certainly be killed. But Sage's rivals have their own agendas as well.

As Sage moves from a rundown orphanage to Conner's sumptuous palace, layer upon layer of treachery and deceit unfold, until finally, a truth is revealed that, in the end, may very well prove more dangerous than all of the lies taken together.
The False Prince har funnits i min bokhylla i ett par år. Jag har alltid varit intresserad, men det är samtidigt en sån där bok som lätt glömts bort. Efter att ha sett Jamies fina recensioner på böckerna i serien väcktes intresset återigen dock, och nu har jag äntligen fått den läst.
Handlingen var väldigt spännande och snabbläst. Kanske inte med så överdrivet mycket action, men jag gillade intrigerna och den falska prinsen. Trots viss förusägbarhet så lyckades den ändå förvåna mig
. Och Sage var dessutom en grymt härlig karaktär. Jag ser definitivt fram emot att läsa fortsättningen inom en snar framtid. Rekommenderas gärna.