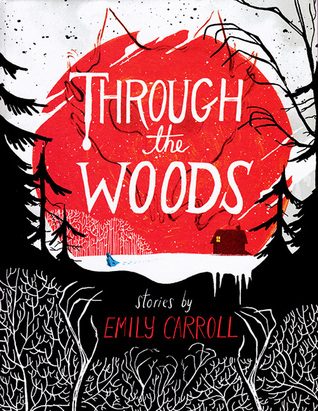 Titel:
Through the Woods
Författare:
Emily Carroll
Serie:
-
Sidor:
208
'It came from the woods. Most strange things do.'

Five mysterious, spine-tingling stories follow journeys into (and out of?) the eerie abyss.

These chilling tales spring from the macabre imagination of acclaimed and award-winning comic creator Emily Carroll.

Come take a walk in the woods and see what awaits you there...
Jag har hört mycket bra om Through the Woods, och blev naturligtvis nyfiken. Så jag beställde hem och läste den genast när den kom. Och det här är vad jag tyckte;

Through the Woods innehåller fem berättelser som alla var riktigt kusliga. Bilderna är fantastiskt fina, och det var ett skräckblandat nöje att läsa igenom den här boken. Den grep genast tag i mig och jag kunde inte sluta läsa. Mina favoritberättelser var A Lady's Hands are Cold och The Nesting Place. Dessutom älskade jag slutdelen In Conclusion. ¨

Det enda som störde mig lite är hur alla berättelser avslutades. Å ena sidan gillar jag att det är så öppet. Det spelar på fantasin, och är nästan mer skräckinjagande än vad det hade varit med ett riktigt avslut. Å andra sidan sidan så gillar jag riktiga avslut och kan därför inte låta bli att bli aningen besviken på de öppna sluten. I vissa av berättelserna fungerar det bra, men i vissa andra inte. Särskilt det i den tredje berättelsen, His Face All Red, tror jag inte riktigt att jag förstod mig på?

Through the Woods var ändå en fantastisk läsupplevelse, och en jag absolut älskade. Jag har lite svårt för att sätta ett betyg, men de otroligt vackra bilderna höjer det ändå en aning, och jag kan varmt rekommendera den.