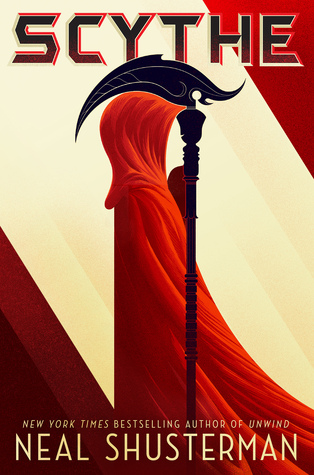 Titel:
Scythe
Författare:
Neal Shusterman
Serie:
Arc of a Scythe #1
Sidor:
435
A world with no hunger, no disease, no war, no misery. Humanity has conquered all those things, and has even conquered death. Now scythes are the only ones who can end life—and they are commanded to do so, in order to keep the size of the population under control.

Citra and Rowan are chosen to apprentice to a scythe—a role that neither wants. These teens must master the "art" of taking life, knowing that the consequence of failure could mean losing their own.
Neal Shustermans Unwind serie är en av mina största favoriter, så mina förväntningar på hans nya bok, Scythe, har varit mer eller mindre skyhöga. Det var med stora förhoppningar jag påbörjade min läsning, och jag kan glatt meddela att Scythe överträffade alla dessa.
Det som är så imponerande är att Shusterman har en förmåga att bygga upp världar som är lika fascinerande som skrämmande. Scythes värld är givetvis inget undantag. I en värld där mänskligheten har botat alla sjukdomar och har vetenskapen till att vara odödligha har man fått satt in så kallade Scythes, vilka är de enda som har tillåtelsen att ta ett liv, och man måste uppfylla en viss kvot varje år. Det kan låta som en utopi det här med att aldrig behöva dö, men ju mer man läser desto mer dystopiskt blir det. Handlingen fängslade mig redan från början, och spänningen var på topp konstant. Jag älskade särskilt delarna ur olika Scythes journaler, och själva träningen var jätteintressant. Slutet var dessutom riktigt, riktigt bra, och jag ser verkligen fram emot fortsättningen.
När det kommer till karaktärerna så gillade jag både Rowan & Citra mycket. Det bästa var att de påminde mig om Connor och Risa (Unwind). Inte på ett dåligt sätt som att författaren bara kan skriva en sorts karaktärer, utan mer att det fanns små glimtar där som fick mig att bli lite nostalgisk. Och Rowans val där mot slutet var bara...perfektion.
Scythe var både spännande och skrämmande, och den gav mig både en och annan tankeställare. En riktigt pärla, och en jag mer än gärna rekommenderar.