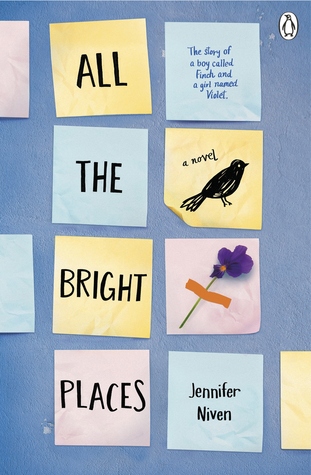 Titel:
All the Bright Places
Författare:
Jennifer Niven
Serie:
-
Sidor:
378
Theodore Finch is fascinated by death, and he constantly thinks of ways he might kill himself. But each time, something good, no matter how small, stops him.

Violet Markey lives for the future, counting the days until graduation, when she can escape her Indiana town and her aching grief in the wake of her sister's recent death.

When Finch and Violet meet on the ledge of the bell tower at school, it's unclear who saves whom. And when they pair up on a project to discover the 'natural wonders' of their state, both Finch and Violet make more important discoveries: It's only with Violet that Finch can be himself - a weird, funny, live-out-loud guy who's not such a freak after all. And it's only with Finch that Violet can forget to count away the days and start living them. But as Violet's world grows, Finch's begins to shrink.
All the Bright Places var en av mina mest efterlängtade boksläpp inför 2015, och mina förväntningar var verkligen skyhöga. Som tur var så lyckades boken att leva upp till dessa, och jag absolut älskade berättelsen om Violet och Finch.
Redan innan jag började läsa den här boken så hade jag ställt in mig på, ja till och med hoppades på, att den skulle krossa mitt hjärta. Jag älskar böcker som får mig att känna, och AtBP var verkligen en sådan bok. Den fick mig både att skratta och att gråta, och hela slutet var himlastormande sorgligt. Mer än så vill jag inte säga i risk för spoilers, men däremot vill jag gärna påpeka att det här är en bok som jag tycker att alla borde läsa.
Karaktärerna var fantastiska, och jag föll handlöst för Finch. Han var så vacker, så briljant, så levande att det var omöjligt att inte älska honom. Violet var också härlig, och jag gillade hennes utveckling mycket. Men mest av allt så älskade jag karaktärerna tillsammans, och det, markera för spoilers -->

krossar mitt hjärta att de inte fick sitt lyckliga slut

, spoilers slut.
All the Bright Places var en oerhört vacker bok, lika hoppfull som sorglig, och jag absolut älskade den. En av de bästa contemporary jag läst på länge, och en bok jag rekommenderar till precis alla.
Favoritcitat:
"It's my experience that people are a lot more sympathetic if they can see you hurting, and for the millionth time in my life I wish for measles or smallpox or some other easily understood disease just to make it easier on me and also on them."