Varje tisdag anordnar
The Broke and the Bookish
en
Top Ten Tuesday
.
Här ger man sin Topp 10 i veckans valda ämne som denna vecka är:
Top Ten Favorite Heroines From Books
10. Ciere Giba (Illusive av Emily Lloyd-Jones)
"She's a lunatic," says Conrad.
"Absolutely insane," says Guntram.
"Either completely fearless or utterly stupid," says Conrad.
"She's going to fit right in," says Guntram."
9. Sydney Sage (Bloodlines av Richelle Mead)
"Out of old habit, I put my hand on my collarbone, touching a cross that was no longer there.
Don't let them change me, I prayed silently. Let me keep my mind. Let me endure whatever
there is to come."
8. Ellie Linton (Tomorrow serien av John Marsden)
"Well, I've learnt this much: it doesn't matter
what it costs, it's worth paying the price. You can't live cheap
and you can't live for nothing. Pay the price and be proud you've
paid it, that's what I reckon."
7. Gwen Frost (Mythos Academy av Jennifer Estep)
"I did not glow with the thrill of battle. Cringe, yes. Glow, no."
6. Tris Prior (Divergent av Veronica Roth)
Obs, spoilers från Allegiant -->
"I suppose a fire that burns that bright is not meant to last."

5. Rose Hathaway (Vampire Academy av Richelle Mead)
"Even I make mistakes." I put on my brash, overconfident face. "I know it's hard to believe—kind of surprises me myself—but I guess it has to happen. It's probably some kind of karmic way to balance out the universe. Otherwise, it wouldn't be fair to have one person so full of awesomeness."


4. Annabeth Chase (Percy Jackson and the Olympians &
The Heroes of Olympus av Rick Riordan)
"Monkey bar," Annabeth said. "I'm great at these." She leaped onto to the first rung and start swinging her way across. She was scared of tiny spiders, but not of plummeting to her death from a set of monkey bars. Go figure."

3. Hermione Granger (Harry Potter av J.K. Rowling)
"I hope you're pleased with yourselves. We could all have been killed - or worse, expelled."

2. Katniss Everdeen (The Hunger Games av Suzanne Collins)
"Katniss Everdeen, the girl who was on fire, you have provided a spark that, left unattended, may grow to an inferno that destroys Panem," he says."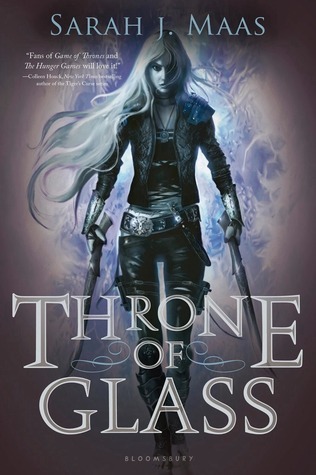 1. Celaena Sardothien (Throne of Glass av Sarah J. Maas)
"I don't think you realize who you're dealing with."
The man clicked his tongue, "If you were that good, you would be more than just Captain of the Guard."
Chaol let out a low, breathy laugh. "I wasn't talking about me."
"She's just one girl."
Though his guts were twisting at the thought of her in this place, with these people, though he was considering every possible way to get himself and Celaena out of here alive, he gave the man a grin. "Then you're really in for a big surprise."