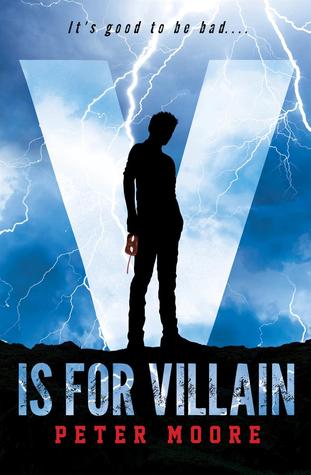 Titel:
V is for Villain
Författare:
Peter Moore
Serie:
-
Sidor:
327
Brad Baron is used to looking lame compared to his older brother, Blake. Though Brad's basically a genius, Blake is a superhero in the elite Justice Force. And Brad doesn't measure up at his high school, either, where powers like super-strength and flying are the norm. So when Brad makes friends who are more into political action than weight lifting, he's happy to join a new crew-especially since it means spending more time with Layla, a girl who may or may not have a totally illegal, totally secret super-power. And with her help, Brad begins to hone a dangerous new power of his own.

But when they're pulled into a web of nefarious criminals, high-stakes battles, and startling family secrets, Brad must choose which side he's on. And once he does, there's no turning back.
Jag har varit måttligt intresserad av V is for Villain sedan jag först hörde talas om den, men efter att jag blev sugen på att läsa mer om superhjältar/skurkar/krafter så blev den ett måste på min TBR. Och nu i efterhand är jag bara så glad att jag köpte hem den, för det här var en bok som jag absolut älskade.
Man får egentligen ingen förklaring till varför världen ser ut som den gör i V is for Villain, men som jag förstod det så skapades den första superhjälten någon gång på 50-talet, och efter det föds vissa människor med speciella krafter och superhjältar är allmänt kända och älskade av alla. Brad har dock inga egna krafter, trots att han är från en familj av hjältar, och efter en del omständigheter så inleder han en karriär som superskurk istället. Handlingen var både spännande och rolig, och boken är full av sarkastiska fotnoter som fick mig att skratta högt i var och varannat kapitel. Dock känner jag lite att det här är en inledningshistoria till Brads life of crime, och jag hade gärna sett att boken innehöll ännu mer skurkigheter
.
Karaktärerna var rätt härliga, och jag gillade verkligen Brad. Han var både smart och rolig, och jag älskade hans ambitioner. I övrigt så var Layla något av en favorit, och även om jag velat lära känna bi-karaktärerna bättre så tyckte jag om både Boots och Peanut. Blake däremot var en helt avskyvärd karaktär, och jag skulle nog ha gjort samma val som Brad gjorde om jag hade haft honom till storebror.
Slutet var vansinnigt spännande, och jag gillar inte alls den lilla cliffhangern som det lämnade oss med. Allra helst eftersom jag inte kan hitta någon som helst information om författaren planerar en uppföljare eller inte. Missförstå mig inte, V is for Villain fungerar helt klart som en ensamstående bok, men personligen så vill jag ha mer.
V is for Villain var en riktigt bra bok, trots liten brist på bakgrundsförklaringar och världsuppbyggnad. Rolig, smart och spännande, och en given plats på favorithyllan. Rekommenderas varmt.