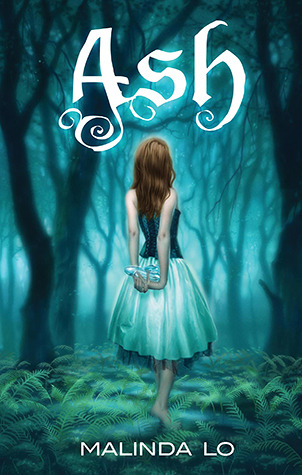 Titel:
Ash
Författare:
Malinda Lo
Serie:
-
Sidor:
291
In the wake of her father's death, Ash is left at the mercy of her cruel stepmother. Consumed with grief, her only joy comes by the light of the dying hearth fire, rereading the fairy tales her mother once told her. In her dreams, someday the fairies will steal her away, as they are said to do. When she meets the dark and dangerous fairy Sidhean, she believes that her wish may be granted.

The day that Ash meets Kaisa, the King's Huntress, her heart begins to change. Instead of chasing fairies, Ash learns to hunt with Kaisa. Though their friendship is as delicate as a new bloom, it reawakens Ash's capacity for love—and her desire to live. But Sidhean has already claimed Ash for his own, and she must make a choice between fairy tale dreams and true love.
Ash är en bok jag varit lite halvt och halvt nyfiken på i flera år, men samtidigt aldrig kommit mig för att köpa hem. Så när jag såg den på bibblan så tänkte jag att jag skulle ge den en chans, och visst var den en helt okej bok.

Handlingen är en re-telling av Askungen och sådana har man ju läst en par av. Början kändes ganska långsam och lite småtråkig, men språket var stämningsfullt och mysigt. Del två av boken var dock mycket bättre, och jag var väldigt förtjust i själva hbtq aspekten av berättelsen. Jag gillade även inblandningen av fairies och världsuppbyggnaden var intressant och bra.

Karaktärerna var dock bokens svagaste sida, och det kändes som att alla var aningen underutvecklade. Jag hade inget problem med vare sig Ash, Kaisa eller Sidhean, men samtidigt så lärde jag knappt känna dem. Jag var dock, som sagt, väldigt förtjust i relationen mellan Ash & Kaisa, men jag önskar att den hade tagit en ännu större plats i boken.

Ash var en bra bok, i det stora hela. Kanske inget jag kommer att minnas i det långa loppet, men ett nöje för stunden. Rekommenderas dock gärna, och enbart, för den lesbiska twisten. Den är värd det.