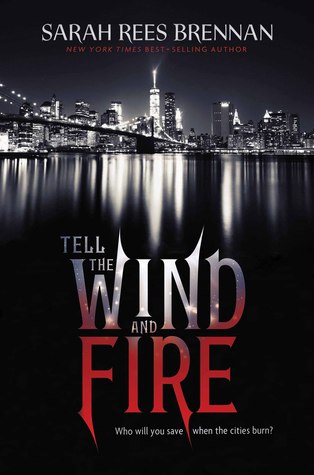 Titel:
Tell the Wind and Fire
Författare:
Sarah Rees Brennan
Serie:
-
Sidor:
358
In a city divided between opulent luxury in the Light and fierce privations in the Dark, a determined young woman survives by guarding her secrets.

Lucie Manette was born in the Dark half of the city, but careful manipulations won her a home in the Light, celebrity status, and a rich, loving boyfriend. Now she just wants to keep her head down, but her boyfriend has a dark secret of his own—one involving an apparent stranger who is destitute and despised.

Lucie alone knows of the deadly connection the young men share, and even as the knowledge leads her to make a grave mistake, she can trust no one with the truth.

Blood and secrets alike spill out when revolution erupts. With both halves of the city burning, and mercy nowhere to be found, can Lucie save either boy—or herself?
Eftersom jag älskar Sarah Rees Brennans The Lynburn Legacy serie, så var givetvis hennes nya bok, Tell the Wind and Fire, ett måste på min att läsa lista. Förväntningarna var att få mitt hjärta krossat, och visst lyckades boken med det.

Tell the Wind and Fire är en re-telling av Charles Dickens A Tale of Two Cities, och jag har inte läst originalet så jag hade ingen aning vad som väntade. SRBs bok handlar dock om en massa magi, romans, dubbelgångare och uppror. Början av boken var bra, men den grep inte riktigt tag i mig. Förrän Carwyn tog plats, och gjorde den underbar. Språket är väldigt vackert, boken var spännande, härliga karaktärer och ett slut som fullständigt krossade mig. Lite det man kommit att vänta sig, alltså.

Av karaktärerna så gillade jag Lucie, men samtidigt önskade jag att hon skulle vågat mer. Hennes rädsla hindrade henne från att vara fantastisk, och även om jag förstår den så tycker jag att det var lite tråkigt att hon inte levde ut till sina fulla potential. Hon var dock samtidigt ändå väldigt modig, och jag gillade hennes skärpa och intellekt. Ethan har jag inte riktigt klar uppfattning om, jag gillade honom men inget mer. Min favorit var helt klart Carwyn. Han var sarkastisk och charmig. Kemin mellan honom och Lucie var makalös och jag hade kunnat läsa tre böcker till bara om deras tjafsande.

Tell the Wind and Fire var en riktigt bra bok, men jag kommer nog aldrig att komma över det där slutet. Och trots att jag gillar själva slutet, så hade jag ändå önskat mig lite mer av ett avslut. Fast det är förstås inte den berättelsen som gäller. Jag är bara ledsen över att redan behöva lämna den. Rekommenderas gärna, men läs på egen risk.
Favoritcitat:
"You were going into the Light city without a pass?" Ethan said. "That's a crime."
"I guess we don't know each other that well yet," Carwyn observed. "It's possibly time to talk about some of my hobbies and interests. One of my hobbies is crime."

"I said very quietly, "Do you think you might need to go to the bathroom at any point in the near future?"
"Uh," said Carwyn, "what? No. What?" He paused. "I want you to know that was my first time," he added. "Not knowing what to say to someone. I always have something to say."
"Well, your first time didn't last long, but I guess that's always how it goes," I said."