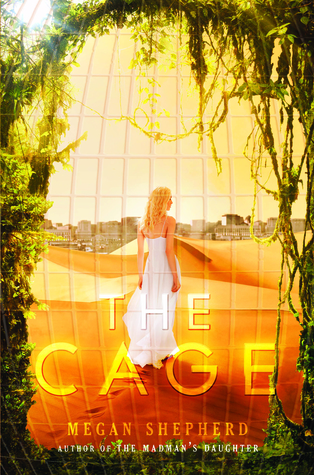 Titel:
The Cage
Författare:
Megan Shepherd
Serie:
The Cage #1
Sidor:
385
When Cora Mason wakes in a desert, she doesn't know where she is or who put her there. As she explores, she finds an impossible mix of environments—tundra next to desert, farm next to jungle, and a strangely empty town cobbled together from different cultures—all watched over by eerie black windows. And she isn't alone.

Four other teenagers have also been taken: a beautiful model, a tattooed smuggler, a secretive genius, and an army brat who seems to know too much about Cora's past. None of them have a clue as to what happened, and all of them have secrets. As the unlikely group struggles for leadership, they slowly start to trust each other. But when their mysterious jailer—a handsome young guard called Cassian—appears, they realize that their captivity is more terrifying than they could ever imagine: Their captors aren't from Earth. And they have taken the five teenagers for an otherworldly zoo—where the exhibits are humans.

As a forbidden attraction develops between Cora and Cassian, she realizes that her best chance of escape might be in the arms of her own jailer—though that would mean leaving the others behind. Can Cora manage to save herself and her companions? And if so . . . what world lies beyond the walls of their cage?
Jag älskar Megan Shepherds debutserie, The Madman's Daughter, och därför var jag självklart väldigt intresserad av hennes nya serie. Jag köpte genast hem The Cage när den släpptes, men sedan blev den liggandes oläst ända tills nu. Och helt ärligt så måste jag säga att jag är ganska så besviken, nu i efterhand...
Jag gillade handlingen mycket, den var spännande och själva världen var vansinnigt fascinerande. Jag menar utomjordingar, kidnappningar och ett mänskligt zoo. Låter ganska perfekt va? Men karaktärerna och, framför allt, romansen förstörde det mesta för mig, och det var så mycket jag helt enkelt inte kunde ha överseende med.
Cora var helt okej i början, och jag tyckte rätt bra om henne då. Men ju mer jag läste, desto mer började jag att tröttna, och hon gjorde bara så många idiotiska val. Detsamma gällde för Lucky. Och bi-karaktärerna Rolf, Nok, Mali & Leon var jag aldrig särskilt intresserad av. Och om dessa sex skulle vara mänsklighetens bästa, då känner jag mig starkt oroad. Cassian hade jag inte heller några varma känslor för, och romansen mellan honom och Cora övergick helt mitt förstånd. Varför skulle man vara intresserad av någon som kidnappat och håller en fången i en bur? Som anser att det är ens uppgift att föröka sig? Och dessutom efter bara ett par få interaktioner. Nej, bara nej. Det är något av det absolut värsta och mest obehagliga jag varit med om.
The Cage hade en väldigt lovande handling (och det hjälper betyget mycket), men karaktärerna och romansen försötrde min läsupplevelse. Betyget hamnar därför på ett svagt gillar, men hade ärligt talat kunnat vara ännu lägre. Det är inte en bok jag rekommenderar, och jag kommer nog inte att läsa fortsättningen. Helt ärligt så väntade jag mig betydligt mer av Megan Shepherd.