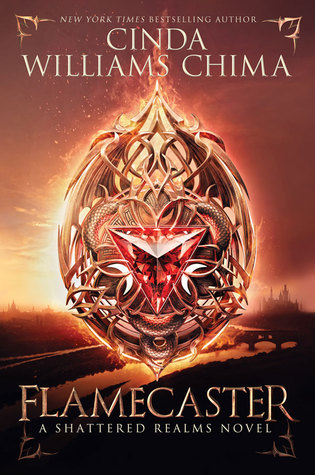 Titel:
Flamecaster
Författare:
Cinda Williams Chima
Serie:
Shattered Realms #1
Sidor:
535
Adrian sul'Han, known as Ash, is a trained healer with a powerful gift of magic—and a thirst for revenge. Ash is forced into hiding after a series of murders throws the queendom into chaos. Now Ash is closer than he's ever been to killing the man responsible, the cruel king of Arden. As a healer, can Ash use his powers not to save a life but to take it?

Abandoned at birth, Jenna Bandelow was told that the mysterious magemark on the back of her neck would make her a target. But when the King's Guard launches a relentless search for a girl with a mark like hers, Jenna assumes that it has more to do with her role as a saboteur than any birth-based curse. Though Jenna doesn't know why she's being hunted, she knows that she can't get caught.

Eventually, Ash's and Jenna's paths will collide in Arden. Thrown together by chance and joined by their hatred of the king, they will come to rescue each other in ways they cannot yet imagine.
Jag har tidigare läst, och älskat, Cinda Williams Chimas Seven Realms serie. Så när en spin-off, som utspelar sig en sisådär 25 år senare skulle komma, så var jag givetvis tvungen att ha den. Och precis som med Seven Realms, så var Flamecaster en bok jag tyckte riktigt mycket om.

Handlingen fick mig i samma stämning som när jag förste läste The Demon King. Det här är fantasy i hög klass, men precis som med TDK så fann jag Flamecaster att vara aningen långsam emellanåt. Det är egentligen inget negativt, och det är mycket världsuppbyggnad och boken är väldigt karaktärsdriven. Men samtidigt väldigt spännande, och jag gillade den så mycket. Det är för övrigt lite svårt att prata om handlingen, och jag tycker helt klart att man bör läsa Seven Realms serien innan man ger sig på den här. Även om den faktiskt går att läsa helt fristående också.

Så till några spoilers, markera för att läsa (och observera att första punkten spoilar väldigt mycket från även Seven Realms):
-

Jag hade givetvis förstått att någon av karaktärerna skulle vara någon av Raisa & Hans barn. Men jag var inte alls beredd på att Han skulle dö redan där i början, och jag är så långt ifrån okej med det som man bara kan komma. Visst att de fått många fina år tillsammans, men ändå!!


-

Jenna var sjukt intressant och jag undrar så vad hennes krafter är? Är hon en skepnadsskiftare, eller är hon typ en dragon whisperer? Och, drakar!!


-

Vad är det med den där Evan egentligen? Vem är han?


spoilers slut.

Av karaktärerna så älskade jag Ash, och tyckte mycket om Jenna. Är dock inte överförtjust i den insta-love som följde, även om den inte tog upp sån stor del av handlingen. Jag tyckte dessutom mycket om Lila, och är väldigt nyfiken på både Destin och Evan.

I det stora hela så var Flamecaster riktigt, riktigt bra. Och jag har en känsla av att det är en serie som bara kommer att bli bättre och bättre. Jag längtar så efter uppföljaren, och jag rekommenderar den mer än gärna.