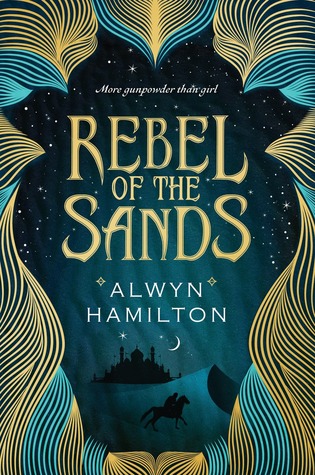 Titel:
Rebel of the Sands
Författare:
Alwyn Hamilton
Serie:
Rebel of the Sands #1
Sidor:
358
Dustwalk is an unforgiving, dead-end town. It's not the place to be poor or orphaned or female. And yet Amani Al'Hiza must call it 'home'.

Amani wants to escape and see the world she's heard about in campfire stories.

Then a foreigner with no name turns up, and with him she has the chance to run.

But the desert plains are full of dangerous magic. The Sultan's army is on the rise and Amani is soon caught at the heart of a fearless rebellion...

An epic story of swirling desert sands, love, magic and revolution.
Rebel of the Sands är ännu en bok som fúnnits på min att läsa lista sedan jag först hörde talas om den. Recensionerna har varit väldigt positiva, så jag var faktiskt aningen rädd att förväntningarna skulle vara för höga när jag började läsa. Men det hade jag inte behövt vara, för det visade sig att jag tyckte så mycket om den här boken.

Handlingen var väldigt gripande, och det var svårt att sluta läsa när jag väl börjat. Jag har sett några som klagar lite på blandningen av öst och väst, men jag älskade världen med dess blandning av arabiska nätter och cowboys & shootouts. Rebel of the Sands var även väldigt spännande, full av action, och hade en perfekt romans. Ni vet en sådan som byggs upp över tid, och som inte innehåller mer än ett kärleksintresse. Det enda jag sakande lite var en karta över världen. Jag kom på mig själv med att leta efter en flera gånger, trots att jag visste att det inte fanns någon. Slutet var, för övrigt, helt fantastiskt och jag är så, så glad att det här är början till en trilogi.

Karaktärerna var jättehärliga. Jag älskade Amani. Jag älskade hennes mod, hennes skicklighet och hennes utveckling. Även Jin tyckte jag mycket om, och jag gillade särskilt att deras relation var så jämnställd och att de turades om att rädda varandra. I övrigt så tyckte jag även mycket om Shazad, Ahmed och Bahi.

Rebel of the Sands var i princip så bra som alla redan sagt att den skulle vara, och den är definitivt ett måste på era TBRs. Det fanns inget jag inte tyckte om med den, och jag längtar så efter fortsättningen. Rekommenderas varmt.