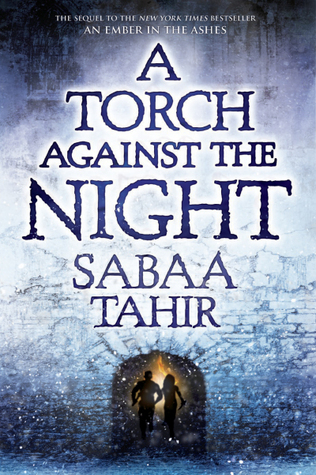 Titel:
A Torch Against the Night
Författare:
Sabaa Tahir
Serie:
An Ember in the Ashes #2
Sidor:
452
Spoilervarning! Boken ingår i en serie, spoilers från tidigare böcker förekommer.
Elias and Laia are running for their lives. After the events of the Fourth Trial, Martial soldiers hunt the two fugitives as they flee the city of Serra and undertake a perilous journey through the heart of the Empire.

Laia is determined to break into Kauf—the Empire's most secure and dangerous prison—to save her brother, who is the key to the Scholars' survival. And Elias is determined to help Laia succeed, even if it means giving up his last chance at freedom.

But dark forces, human and otherworldly, work against Laia and Elias. The pair must fight every step of the way to outsmart their enemies: the bloodthirsty Emperor Marcus, the merciless Commandant, the sadistic Warden of Kauf, and, most heartbreaking of all, Helene—Elias's former friend and the Empire's newest Blood Shrike.

Bound to Marcus's will, Helene faces a torturous mission of her own—one that might destroy her: find the traitor Elias Veturius and the Scholar slave who helped him escape…and kill them both.
Jag var inte lika såld på An Ember in the Ashes som alla andra verkade vara. Visst var det en bra bok, men hypen kring den hade gjort att jag förväntade mig så mycket mer. Så därför var jag lite tveksam om jag verkligen ville fortsätta med serien, och det dröjde ett bra tag innan jag äntligen beslöt mig för att skaffa hem och läsa uppföljaren A Torch Against the Night. Dessutom har jag sett flera recensioner som säger att den inte skulle vara lika bra som första boken. Men jag, uppenbarligen tvärtemot, älskade den här boken och fann den att vara betydligt bättre än sin föregångare.

Som sagt var jag inte helt sugen när jag började läsa boken, men handlingen greppade tag i mig på en gång. Den var full av action, spänning och lite magi. Korta kapitel ur olika perspektiv hade mig som klistrad, och framåt slutet kunde jag inte läsa snabbt nog. Det hinner hända så mycket, det är så många känslor, och det byggs upp riktigt snyggt inför fortsättningen av serien. Jag har definitivt fått mersmak, och jag längtar väldigt efter nästa bok.

När det kommer till karaktärerna så gillar jag både Elias och Laia. Smarta, modiga etc, etc. Men min favorit är utan tvekan Helene, och det är nog just därför som jag är så förtjust i den här boken. Hennes karaktär är så himla fascinerande, och utvecklingen och allt som händer henne har potentialen att bygga upp henne till enastående. Jag hade lätt kunnat läsa hela den här serien i bara Helenes perspektiv, för hennes story är definitivt den som intresserar mig mest.

I mina ögon var A Torch Against the Night en alldeles förträfflig uppföljare, och där jag med spänning ser fram emot resten av serien. Rekommenderas varmt.