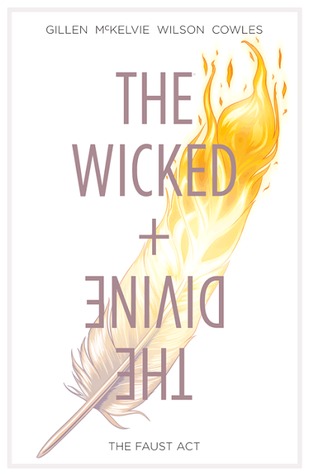 Titel:
The Wicked + The Divine, Vol 1: The Faust Act
Författare:
Kieron Gillen mfl.
Serie:
The Wicked + The Divine #1-5
Sidor:
144
Every ninety years, twelve gods incarnate as humans. They are loved. They are hated. In two years, they are dead. The team behind critical tongue-attractors like Young Avengers and PHONOGRAM reunite to create a world where gods are the ultimate pop stars and pop stars are the ultimate gods. But remember: just because you're immortal, doesn't mean you're going to live forever.
Jag har i princip bara hört bra saker om The Wicked + The Divine och det är nog ett av de seriealbum jag varit mest nyfiken på att få läsa. Förväntningarna var höga, och jag tycker gott att den här volymen levde upp till dessa.

Det som lockade mig mest var givetvis handlingen. Jag älskar ju all mytologi och dess gudar, så det här var verkligen perfekt för mig. Handlingen var lite förvirrande från början, men jag kom snabbt in i den. Det var ett väldigt intressant koncept det här med reinkarnerade gudar som bara lever i två år och som är popstjärnor. Både lite flummigt, men samtidigt väldigt välgjort. Stort plus också för bredden av olika gudar och för mångfalden. Och illustrationerna är helt fantastiska. Hela albumet är bara så snyggt, och så läsvärt.

Karaktärsmässigt så var jag väldigt förtjust i Luci, och jag gillar verkligen tanken på en kvinnlig Lucifer. Även den här Tara är jag dödligt nyfiken på, och hoppas på att få möta henne i nästa volym.

The Wicked + The Divine var en väldigt intressant start på serien. Gudomliga illustrationer, spännande handling och fascinerande karaktärer. Plus en riktigt snygg cliffhanger, som definitivt gör att jag måste skaffa hem nästa volym asap. Rekommenderas mer än gärna.