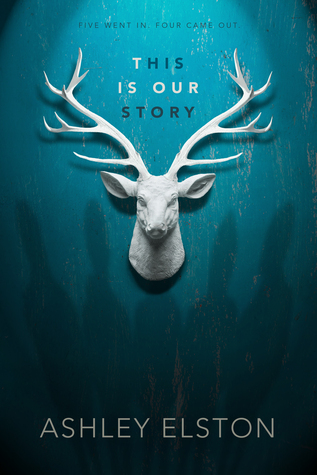 Titel:
This is Our Story
Författare:
Ashley Elston
Serie:
-
Sidor:
312
No one knows what happened that morning at River Point. Five boys went hunting. Four came back. The boys won't say who fired the shot that killed their friend; the evidence shows it could have been any one of them.

Kate Marino's senior year internship at the district attorney's office isn't exactly glamorous—more like an excuse to leave school early that looks good on college applications. Then the DA hands her boss, Mr. Stone, the biggest case her small town of Belle Terre has ever seen. The River Point Boys are all anyone can talk about. Despite their damning toxicology reports the morning of the accident, the DA wants the boys' case swept under the rug. He owes his political office to their powerful families.

Kate won't let that happen. Digging up secrets without revealing her own is a dangerous line to walk; Kate has her own reasons for seeking justice for Grant. As investigates with Stone, the aging prosecutor relying on Kate to see and hear what he cannot, she realizes that nothing about the case—or the boys—is what it seems. As Kate gets dangerously close to the truth, it becomes clear that the early morning accident might not have been an accident at all—and if Kate doesn't uncover the true killer, more than one life could be on the line…including her own.
Jag såg många fina recensioner för This is Our Story, så jag blev givetvis nyfiken. Efter att ha köpt den till mig själv i julklapp blev den inte liggandes oläst särskilt länge, och precis som jag misstänkte så tyckte jag mycket om den.

Handlingen var oerhört spännande, och jag fastnade genast för boken. Fem bästa vänner går alltså ut i skogen för att jaga, och en av dem blir dödad av någon av de andra. Men ingen pratar, och ingen vet vem som är skyldig. Eller? Man följer high school eleven Kate, som jobbar för åklagaren och hade en fling med pojken som sköts. Hela boken går liksom ut på att hitta sanningen, och den tog en del snygga vändningar som jag inte förväntade mig. Gillade dessutom perspektivet från en av pojkarna, och jag kan säga att det förvånade mig en aning där i slutet.

När det kommer till karaktärerna var Kate intressant att följa, men samtidigt så fanns det ingen karaktär jag fastnade fullt för. Bi-karaktärerna var intressanta, men jag hade gärna lärt känna killarna lite bättre. Stort plus dock för romansen, som var en av de saker som förvånade mig, och som jag fann att vara väldigt fin.

This is Our Story är långsamt spännande, och absolut omöjlig att lägga ifrån sig. Man behöver få veta sanningen. Lite tråkigt att jag inte fastnade fullt ut för karaktärerna, men ändå en bok jag gillade väldigt mycket och en jag gärna rekommenderar.