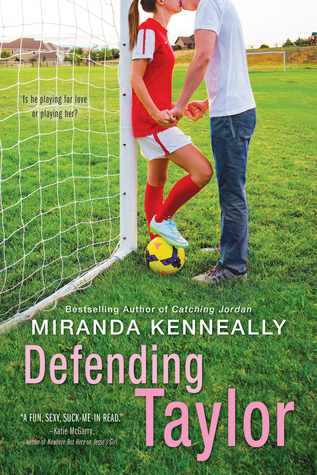 Titel:
Defending Taylor
Författare:
Miranda Kenneally
Serie:
Hundred Oaks #7
Sidor:
290
Captain of the soccer team, president of the Debate Club, contender for valedictorian: Taylor's always pushed herself to be perfect. After all, that's what is expected of a senator's daughter. But one impulsive decision-one lie to cover for her boyfriend-and Taylor's kicked out of private school. Everything she's worked so hard for is gone, and now she's starting over at Hundred Oaks High.

Soccer has always been Taylor's escape from the pressures of school and family, but it's hard to fit in and play on a team that used to be her rival. The only person who seems to understand all that she's going through is her older brother's best friend, Ezra. Taylor's had a crush on him for as long as she can remember. But it's hard to trust after having been betrayed. Will Taylor repeat her past mistakes or can she score a fresh start?
Precis som Miranda Kenneallys andra böcker så var Defending Taylor riktigt, riktigt bra. Handlingen var mysig och romantisk, med bakomliggande och gripande problem som man bara vet kommer att lösa sig i slutet. Karaktärerna var charmiga, och boken var snabbläst och gullig. Plus att jag älskar det lyckliga slutet. En perfekt bok att börja året med, och en jag gärna rekommenderar.
Titel:
Ever the Hunted
Författare:
Erin Summerill
Serie:
Clash of Kingdoms #1
Sidor:
390
Seventeen year-old Britta Flannery is at ease only in the woods with her dagger and bow. She spends her days tracking criminals alongside her father, the legendary bounty hunter for the King of Malam—that is, until her father is murdered. Now outcast and alone and having no rights to her father's land or inheritance, she seeks refuge where she feels most safe: the Ever Woods. When Britta is caught poaching by the royal guard, instead of facing the noose she is offered a deal: her freedom in exchange for her father's killer.

However, it's not so simple.

The alleged killer is none other than Cohen McKay, her father's former apprentice. The only friend she's ever known. The boy she once loved who broke her heart. She must go on a dangerous quest in a world of warring kingdoms, mad kings, and dark magic to find the real killer. But Britta wields more power than she knows. And soon she will learn what has always made her different will make her a daunting and dangerous force.
Det här är en bok jag länge sett fram emot att få läsa, och mina förväntningar var höga. Som tur var så tyckte jag dock att Ever the Hunted levde upp till dessa, och det var en bok jag gillade riktigt mycket.
Handlingen var väldigt spännande, och det var nästan omöjligt att sluta läsa. Dessutom tyckte jag mycket om både Britta och Cohen (och jag har ju en förkärlek till karaktärer som varit vänner länge innan de blir tillsammans. Så mycket bättre än insta-love). Slutet var kanske inte helt oväntat, men lämnade mig ändå med stor förväntan inför nästa bok. Rekommenderas varmt.