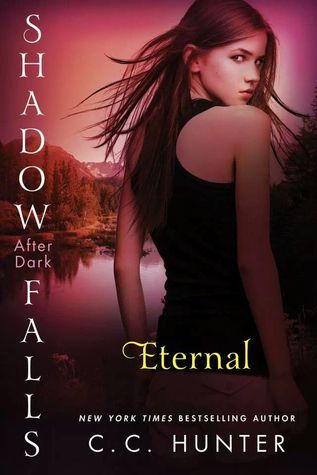 Titel:
Eternal
Författare:
C.C. Hunter
Serie:
Shadow Falls: After Dark #2
Sidor:
386
Spoilervarning! Boken ingår i en serie, spoilers från tidigare böcker förekommer.
All her life, Della's secret powers have made her feel separated from her human family. Now, she's where she belongs, at Shadow Falls. With the help of her best friends Kylie and Miranda, she'll try to prove herself in the paranormal world as an investigator—all the while trying to figure out her own heart. Should she chose Chase, a powerful vampire with whom she shares a special bond? Or Steve, the hot shapeshifter whose kisses make her weak in the knees? When a person with dark connection to her past shows up, it'll help her decide which guy to choose–and make her question everything she knows about herself.
Både originalserien, Shadow Falls, och den här spin-off serien om Della tillhör mina absoluta favoriter, och självklart har jag varit nyfiken på Eternal ända sedan jag läste första boken, Reborn, tidigare i år. Och även om jag tycker att Reborn var snäppet bättre, så är ändå Eternal en bok som jag absolut älskade.
Handlingen är dock, om möjligt, ännu mer spännande än vad den var i Reborn, och jag älskar blandningen av vänskap, övernaturligt, mysterium, och kärlek. Tyvärr så är jag dock inte allt för förtjust i det ena av Dellas kärleksintressen, och det är just därför jag tycker att den här boken tappar lite. Men mer om det i spoilersektionen längre ner.
Karaktärerna är nästan alla alldeles enastående, och jag gillar de flesta så mycket. Della är superhärlig, och jag gillar att hon har en mjuk sida gömd under all tuffhet och sarkasm. Jag tycker dessutom mycket om Kylie, Miranda, Burnett, Holiday, och resten av gänget.
Så till lite spoilers angående handlingen och Dellas kärleksliv, markera för att läsa;
-

Alltså jag försöker, och jag försöker, men jag gillar inte Chase. Jag gillar inte att han inte är ärlig, att han döljer saker, och att han charmar Della istället för att besvara hennes frågor. Jag kan dock erkänna att han hade några ljusa stunder i Eternal, men långt ifrån tillräckligt. Chase är som en sämre Lucas, och jag tycker att detär jättetråkigt att Hunter inte verkar kunna skriva relationer på ett annat sätt. Det finns liksom först den snälla killen, sen kommer en mysterisk bad boy som ljuger och/eller undanhåller en massa för huvudpersonen, aldrig riktigt ber om ursäkt eller förklarar sig, och självklart så väljer ändå huvudpersonen den andra killen. Och jag förstår verkligen inte, för det är inte så kärlek ska vara i mina ögon. Och det känns ju redan nu självklart att Della kommer att välja Chase, och det gör mig bara så himla besviken.
-

I övrigt så är jag väldigt nyfiken på vad som kommer att hända med Dellas familj, och vem det var som dödade hennes faster? Cliffhangern i slutet var bara så elak, och jag längtar redan halvt ihjäl mig efter nästa bok.
spoilers slut.
Eternal var en väldigt bra bok, och den hade kunnat vara nära en fullpoängare om jag bara kunde gilla kärleksintresset. Istället får den nöja sig med ett något sämre betyg än Reborn, men det är fortfarande en bok jag absolut älskar, och jag längtar redan efter uppföljaren. Jag rekommenderar gärna både den här och originalserien till absolut alla.