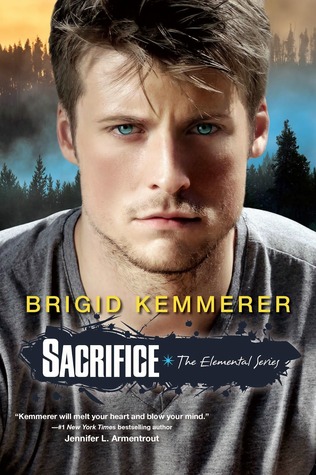 Titel:
Sacrifice
Författare: Brigid Kemmerer
Serie: Elemental #5
Sidor: 274
Spoilervarning! Boken ingår i en serie, spoilers från tidigare böcker förekommer.
Michael Merrick understands pressure. He's the only parent his three brothers have had for years. His power to control Earth could kill someone if he miscalculates. Now an Elemental Guide has it in for his family, and he's all that stands in the way.

His girlfriend, Hannah, understands pressure too. She's got a child of her own, and a job as a firefighter that could put her life in danger at any moment.

But there are people who have had enough of Michael's defiance, his family's 'bad luck'. Before he knows it, Michael's enemies have turned into the Merricks' enemies, and they're armed for war.

They're not interested in surrender. But Michael isn't the white flag type anyway. Everything is set for the final showdown.
Den här serien blev snabbt en av mina favoriter, och jag har mer eller mindre älskat alla de tidigare delarna. Michael har varit en av mina favoritkaraktärer sedan Storm (bok 1), och jag har längtat efter att få läsa hans bok sedan dess. Och visst höll den samma klass som sina föregångare.
Handlingen har varit väldigt spännande i alla böckerna, och här kommer äntligen själva upplösningen. Det är mycket action, och jag gillar verkligen alla de elementära krafterna som bröderna har. Dessutom fick serien ett väldigt värdigt avslut, och även om jag hatade, markera för spoiler -->

att Hunter dog! Snyft

, spoilers slut, så är jag nöjd med hur det slutade. Jag har sagt det tidigare, och jag säger det igen; den här serien är den perfekta blandningen av action och romans.
Sacrifice känns lite mognare än sina föregångare, och det beror ju självklart på karaktärerna. Både Michael och Hannah är vuxna och har ansvar över sina familjer/barn. Jag gillar båda mycket, även om jag faktiskt hade velat ha mer av Hannahs perspektiv, och jag tycker att de passar väldigt bra ihop. I övrigt så gillar jag självklart resten av bröderna Merrick, deras flick- och pojkvänner, Hunter, och Tyler också.
Elemental serien är snabbläst och spännande, med fängslande karaktärer, och jag tycker att det är tråkigt att inte fler människor fått upp ögonen för den. Låt inte de hemska omslagen stoppa er, för den här serien är verkligen värd att läsa, och den kommer säkerligen att tillhöra mina favoriter ett långt tag framöver. Rekommenderas varmt.