Titel:
Teslas vind
Författare:
Neal Shusterman & Eric Elfman
Serie:
Accelerati Trilogin #1
Sidor:
332
Nick flyttar med sin pappa och lillebror till ett fallfärdigt gammalt hus som de har fått ärva av en släkting. Vinden är proppfull av gammalt skräp - mest trasiga och uråldriga apparater. Nick ordnar en loppis för att bli av med skräpet och säljer till sin stora förvåning allt. Det visar sig dock att apparaterna har märkvärdiga egenskaper, och att mystiska män i ljusa kostymer är MYCKET angelägna om att få tag på dem. Dessutom tycks själva vindsrummet ha en märklig dragningskraft. Som om det hade ett medvetande och ett syfte.
Den här boken ville jag mest läsa på grund av att Neal Shusterman är en av författarna, och när den kom in på biblioteket så passade jag på att låna hem den.
Teslas vind var en väldigt underhållande läsning, och trots att den passar mer för yngre läsare, så gillade jag den. Lite småspännande, väldigt rolig, och med charmiga karaktärer. Ett nöje för stunden, och jag ser fram emot fortsättningen.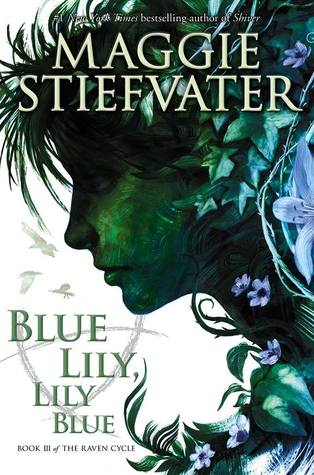 Titel:
Blue Lily, Lily Blue
Författare:
Maggie Stiefvater
Serie:
The Raven Cycle #3
Sidor:
391
Spoilervarning! Boken ingår i en serie, spoilers från tidigare böcker förekommer.
There is danger in dreaming. But there is even more danger in waking up.

Blue Sargent has found things. For the first time in her life, she has friends she can trust, a group to which she can belong. The Raven Boys have taken her in as one of their own. Their problems have become hers, and her problems have become theirs.

The trick with found things though, is how easily they can be lost.

Friends can betray.
Mothers can disappear.
Visions can mislead.
Certainties can unravel.
Det här är ju en av mina favoritserier, och jag har längtat efter den här boken sedan jag läste The Dream Thieves för ett år sedan. Blue Lily, Lily Blue är precis lika bra som sina föregångare, och handlingen är bara så bra, även om det kanske faktiskt inte händer så mycket. Det är svårt att veta riktigt vad det är som pågår dock, och Blue Lily, Lily Blue hade flera kusliga händelser som halvt om halvt skrämde mig. I övrigt så är språket fantastiskt, karaktärerna fenomenala, och slutet är ett sådant som gör att jag genast önskar att hoppa fram ett år i tiden för att få läsa avslutningen. Rekommenderas varmt.
Favoritcitat:
"You can be just friends with people, you know," Orla said. "I think it's crazy how you're in love with all those raven boys."

Orla wasn't wrong, of course. But what she didn't realize about Blue and her boys was that they were all in love with one another. She was no less obsessed with them than they were with her, or one another, analyzing every conversation and gesture, drawing out every joke into a longer and longer running gag, spending each moment either with one another or thinking about when next they would be with one another. Blue was perfectly aware that it was possible to have a friendship that wasn't all-encompassing, that wasn't blinding, deafening, maddening, quickening. It was just that now that she'd had this kind, she didn't want the other."