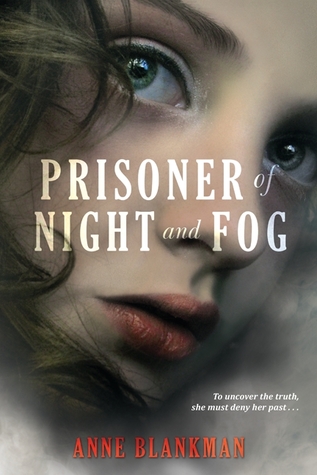 Titel:
Prisoner of Night and Fog
Författare:
Anne Blankman
Serie:
Prisoner of Night and Fog #1
Sidor:
398
In 1930s Munich, danger lurks behind dark corners, and secrets are buried deep within the city. But Gretchen Müller, who grew up in the National Socialist Party under the wing of her "uncle" Dolf, has been shielded from that side of society ever since her father traded his life for Dolf's, and Gretchen is his favorite, his pet.

Uncle Dolf is none other than Adolf Hitler. And Gretchen follows his every command.

Until she meets a fearless and handsome young Jewish reporter named Daniel Cohen. Gretchen should despise Daniel, yet she can't stop herself from listening to his story: that her father, the adored Nazi martyr, was actually murdered by an unknown comrade. She also can't help the fierce attraction brewing between them, despite everything she's been taught to believe about Jews.

As Gretchen investigates the very people she's always considered friends, she must decide where her loyalties lie. Will she choose the safety of her former life as a Nazi darling, or will she dare to dig up the truth—even if it could get her and Daniel killed?
Prisoner of Night and Fog är en sådan bok som jag kollat in flera gånger, men som jag har varit tveksam om den skulle vara något för mig. Till sist tog dock nyfikenheten över, och jag beställde genast hem den. Och nu efter att ha läst den, så kan jag bara säga att det var helt klart en bok för mig, och jag absolut älskade den.

Många gånger får jag för mig att historical fiction inte är min typ av genre, vilket är konstigt eftersom jag verkar älska nästan alla sådana böcker jag läser. Prisoner of Night and Fog utspelar sig i München år 1931, och Anne Blankman har skickligt vävt samman fiction med verkliga händelser. Vi får möta Gretchen som älskar sin farbror Dolf, vilken är ingen annan än Adolf Hitler. Det är ett Tyskland innan andra världskriget och där Hitler och hans parti samlar fler och fler anhängare. Mycket av det som är med är saker som hänt på riktigt, och handlingen är därför lika spännande som fruktansvärd. Jag vill i övrigt inte säga så mycket om handlingen, mer än att den var oerhört bra, och tycker att det är bäst att ni får uppleva den på egen hand.

Karaktärerna är alla väldigt fascinerande, och jag absolut älskade Gretchen. Hennes utveckling var väldigt trovärdig, och jag gillar att det tog tid innan hon ändrade sig. Hon var dessutom väldigt modig, och jag beundrar att hon vågade ändra på sig och göra det rätta. Även Daniel tyckte jag mycket om, och jag var väldigt förtjust i deras romans. Jag gillar att den fick ta tid på sig att utvecklas, och att den inte tog över handlingen (vilket jag tyvärr tycker att alltför många böcker gör nu för tiden). I övrigt var det inte särskilt många karaktärer jag tyckte om, och jag absolut hatade Reinhard (och Hitler med, såklart).

Jag älskar allt med Prisoner of Night and Fog. Handlingen är gripande, karaktärerna äkta, och språket fantastiskt gripande. Ett absolut måste att läsa, och jag längtar redan nu halvt ihjäl mig efter fortsättningen. Rekommenderas varmt.
Favoritcitat:
"Loving someone is one thing, and being loved is another, but being loved by the one you love - that's paradise. And I don't think I shall ever have it. Some men aren't capable of loving you back."
"She stood on the edge of night, that sliver of gray between darkness and dawn, that razor-thin line separating the first part of her life and whatever lay ahead."