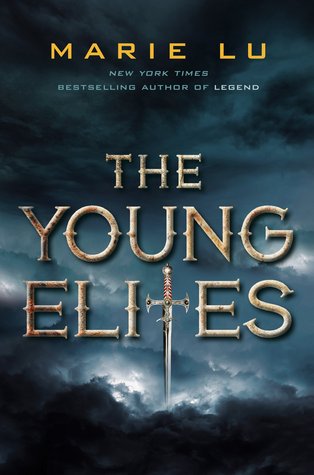 Titel:
The Young Elites
Författare:
Marie Lu
Serie:
The Young Elites #1
Sidor:
355
Adelina Amouteru is a survivor of the blood fever. A decade ago, the deadly illness swept through her nation. Most of the infected perished, while many of the children who survived were left with strange markings. Adelina's black hair turned silver, her lashes went pale, and now she has only a jagged scar where her left eye once was. Her cruel father believes she is a malfetto, an abomination, ruining their family's good name and standing in the way of their fortune. But some of the fever's survivors are rumored to possess more than just scars—they are believed to have mysterious and powerful gifts, and though their identities remain secret, they have come to be called the Young Elites.

Teren Santoro works for the king. As Leader of the Inquisition Axis, it is his job to seek out the Young Elites, to destroy them before they destroy the nation. He believes the Young Elites to be dangerous and vengeful, but it's Teren who may possess the darkest secret of all.

Enzo Valenciano is a member of the Dagger Society. This secret sect of Young Elites seeks out others like them before the Inquisition Axis can. But when the Daggers find Adelina, they discover someone with powers like they've never seen.

Adelina wants to believe Enzo is on her side, and that Teren is the true enemy. But the lives of these three will collide in unexpected ways, as each fights a very different and personal battle. But of one thing they are all certain: Adelina has abilities that shouldn't belong in this world. A vengeful blackness in her heart. And a desire to destroy all who dare to cross her.
Boken med världens längsta beskrivning? Hur som helst, trots att jag inte alls var särskilt imponerad av Marie Lus debutbok Legend (jag gillade dock de två andra delarna i trilogin betydligt bättre), så har jag varit väldigt nyfiken på hennes nya serie, The Young Elites. Och jag måste säga att det här var helt klart en bok i min smak, och jag gillade den väldigt.
Handlingen var väldigt spännande och full av action. Redan på första sidan fastnade jag för boken, och jag ville inte sluta läsa. Jag gillar karaktärernas läckra krafter, det hemliga sällskapet, förföljelsen, och den smått växande revolutionen. Det finns så många intressanta saker i Marie Lus nya värld, men det jag gillar mest är nog antihjältarna till karaktärer.
Adelina är en väldigt fascinerande karaktär. Hon är full av mörker, rädsla och raseri, vilket gör att det är aningen svårt att gilla henne ibland. Men trots det så håller jag stenhårt på henne, och det är väldigt intressant med en sådan huvudkaraktär. Medlemmarna i The Dagger Society är inte heller de så kallade hjältar jag först trodde, och jag gillar att de inte drar sig från att utnyttja och mörda. Enzo är kanske den mest spännande karaktären, bortsett från Adelina, men trots det hade jag lite svårt för honom. De bi-karaktärer jag gillade mest var nog Raffaele och Gemma, även om Lucent också var intressant, och jag absolut hatade Teren.
Så till några spoilertankar, markera för att läsa:
-
Åh, vad förvånad jag blev att Enzo dog. Det hade jag verkligen inte förväntat mig. Jag var dock inte särskilt såld på romansen mellan honom och Adelina, och den kändes inte äkta för någon utav dem. Tur att den inte tog upp särskilt mycket plats iallafall.
-

Fast vem vet, jag tror nog att den här Maeve kommer att återuppliva honom längre fram i serien. Kändes lite som att hon ville ha honom som kung. Plus att epilogen kanske var det bästa med boken, och jag ser så fram emot nästa bok och att lära känna Maeve bättre.
spoilers slut.
The Young Elites var en riktigt bra bok, även om den inte nådde fram till en favoritstatus, och jag var väldigt imponerad av den mörka huvudkaraktären. Jag ser verkligen fram emot uppföljaren, och det här är en bok jag gärna rekommenderar.