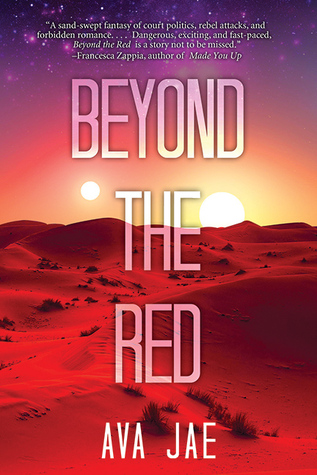 Titel:
Beyond the Red
Författare:
Ava Jae
Serie:
? Förhoppningsvis!
Sidor:
347
Alien queen Kora has a problem as vast as the endless crimson deserts. She's the first female ruler of her territory in generations, but her people are rioting and call for her violent younger twin brother to take the throne. Despite assassination attempts, a mounting uprising of nomadic human rebels, and pressure to find a mate to help her rule, she's determined to protect her people from her brother's would-be tyrannical rule.

Eros is a rebel soldier hated by aliens and human alike for being a half-blood. Yet that doesn't stop him from defending his people, at least until Kora's soldiers raze his camp and take him captive. He's given an ultimatum: be an enslaved bodyguard to Kora...*
*Resten av summeringen har jag valt att plocka bort på grund av spoilers, men hela finns att läsa på Goodreads.
Beyond the Red hamnade på min att läsa lista i princip så fort jag hörde talas om den. Förväntningarna var riktigt höga, och även om den inte riktigt var vad jag först trodde, så var det ändå en bok jag tyckte riktigt mycket om.

När man ser orden "Alien queen Kora", så var yes, sci-fi, iallafall det första jag tänkte på. Därför var jag aningen förvirrad i början, när boken kändes mycket mer som en high fantasy än en science fiction bok. Och trots teknologin och aliens så släppte aldrig den känslan. Det gjorde mig dock inget efter ett tag, och jag var verkligen helt fast i handlingen. Det var spänning, action, och en rykande het romans. Lägg dessutom till ett par snygga plot twists, så bör Beyond the Red genast hamna på allas TBR.

Karaktärerna var väldigt intressanta, och allra helst Eros var min favorit (vilket var extra roligt eftersom jag oftast lutar åt att gilla tjejerna mer än killarna). Han var charmig och modig, och jag fastnade genast för honom. Jag tyckte även mycket om Kora, även om det tog lite längre tid att lära känna henne. Relationen mellan de båda var dessutom fascinerande, och jag gillade särskilt hur den utvecklades.

Slutet var makalöst spännande (och hjärtskärande), och jag kommer att bli grymt irriterad om den här boken inte får en uppföljare (eller två). Jag håller tummarna för en bra försäljning, för jag vill definitivt ha mer av både världen och karaktärerna. Rekommenderas varmt.