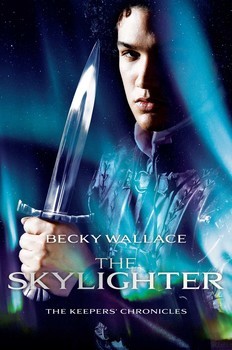 Titel:
The Skylighter
Författare:
Becky Wallace
Serie:
The Keeper's Chronicles #2
Sidor:
422
Spoilervarning! Boken ingår i en serie, spoilers från tidigare böcker förekommer.
Johanna and Rafi are in a race against time to save their country before a power-mad Keeper destroys everything they hold dear in the "enthralling magical world" (Cinda Williams Chima, author of The Heir Chronicles) introduced in The Storyspinner.
The Storyspinner var en av de bästa böcker jag läste förra året (och någonsin), och förväntningarna på denna avslutning var minst sagt höga. Jag var dock inte ett dugg orolig, och självklart visade sig The Skylighter vara minst lika bra som sin föregångare.

Alltså, jag älskar allt med den här serien. Handlingen, världen och karaktärerna är verkligen top notch. Jag hade egentligen bara tänkt läsa ett par kapitel av The Skylighter igår, mest för att jag var aningen bakfull och hade knappt sovit något natten innan, men den fick mig att glömma allt det och några timmar sedan hade jag plöjt hela boken. Det gick verkligen inte att sluta läsa. Handlingen var så spännande, och med korta kapitel ur flera perspektiv så var det helt omöjligt för mig att lägga ner boken. Som avslutning var The Skylighter helt perfekt och jag fick verkligen allt jag hade önskat mig i den här serien.

Karaktärerna var så himla charmiga, och Johanna och Rafi är några av mina absoluta favoriter. Förhållandet mellan de båda är dessutom alldeles perfekt. Jag tycker även mycket om alla Keepers, men särskilt Pira, och deras historia var väldigt intressant att följa. Är även glad att Dom fick en större roll i den här boken, han är sanslöst charmig och jag gillade att se hans utveckling här.

The Skylighter var, som sagt, minst lika bra som The Storyspinner, och det fanns inget jag inte älskade med den. Det är fantasy när den är som bäst, och självklart hamnar den i toppen bland mina favoriter. Så det är kanske inte så förvånande att betyget inte kan bli annat än full poäng.