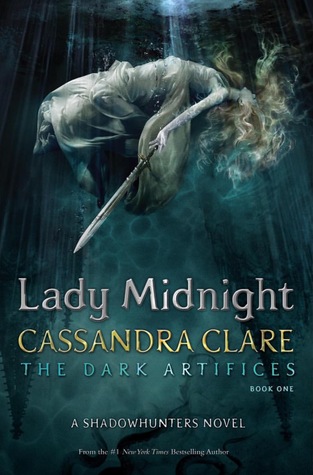 Titel:
Lady Midnight
Författare:
Cassandra Clare
Serie:
The Dark Artifices #1
Sidor:
720
It's been five years since the events of City of Heavenly Fire that brought the Shadowhunters to the brink of oblivion. Emma Carstairs is no longer a child in mourning, but a young woman bent on discovering what killed her parents and avenging her losses.

Together with her parabatai Julian Blackthorn, Emma must learn to trust her head and her heart as she investigates a demonic plot that stretches across Los Angeles, from the Sunset Strip to the enchanted sea that pounds the beaches of Santa Monica. If only her heart didn't lead her in treacherous directions…

Making things even more complicated, Julian's brother Mark—who was captured by the faeries five years ago—has been returned as a bargaining chip. The faeries are desperate to find out who is murdering their kind—and they need the Shadowhunters' help to do it. But time works differently in faerie, so Mark has barely aged and doesn't recognize his family. Can he ever truly return to them? Will the faeries really allow it?
Cassandra Clare är en av mina favoritförfattare, och jag älskar hennes värld av Shadowhunters. Givetvis har jag varit sugen på mer ända sedan jag avslutade City of Heavenly Fire, och väntan på Lady Midnight har känts oerhört lång. Men med en mycket stark seriestart klättrar den genast in bland mina favoritböcker, och jag absolut älskade den.

När man läst nio böcker i samma värld känns det lite svårt att komma på något nytt att säga. Men handlingen var givetvis lika bra som vanligt, spännande och full av action. Jag har dessutom längtat efter att få följa karaktärerna sedan vi först träffade dem i CoHF, och de gjorde mig inte besviken. Lady Midnight hade dessutom en del snygga plot twists, och allra helst slutet förvånade mig oerhört. Lägg dessutom till short storyn om Clary och gänget i slutet, så är det inte undra på att jag längtar halvt ihjäl mig efter nästa bok.

Karaktärerna var superhärliga, och jag tyckte så mycket om alla. Emma var min klara favorit, men Julian, Mark, Cristina, Ty, Livvy, Dru, Tavvy och Perfect Diego har alla en plats i mitt hjärta. Dessutom älskade jag de små gästspelen av de gamla karaktärerna. Särskilt de av, spoilers -->

Tessa & Jem. <3



Så till några spoilertankar, markera för att läsa:
-

Vad förvånad jag blev när det visade sig att Malcolm var skurken. Jag hade aldrig misstänkt honom. Kanske mest för att jag är så van vid Magnus Bane och en warlock som hjälper shadowhunters. Jag gillar dessutom hela Annabel aspekten, allra helst eftersom det är en av mina favoritdikter av Poe.


-

Det känns så sorgligt det här med att man inte får vara kär i sin parabatai, och förklaringen om varför var väldigt intressant. Jag är dock inte helt nöjd med Emmas val där i slutet, även om jag samtidigt förstår det. Jag vet bara inte hur allt ska kunna sluta lyckligt?


-

Och Clary i slutet. Vad menar hon? Tänker hon tacka nej till frieriet? Jag blir galen! Och jag måste få veta!


-

Also, the Last Herondale.. :O


spoilers slut.

Lady Midnight var givetvis vansinnigt bra, och jag tyckte så mycket om den. Jag är väldigt glad att vi får mer böcker i den här världen, för det är en av mina favoriter någonsin. Rekommenderas varmt.