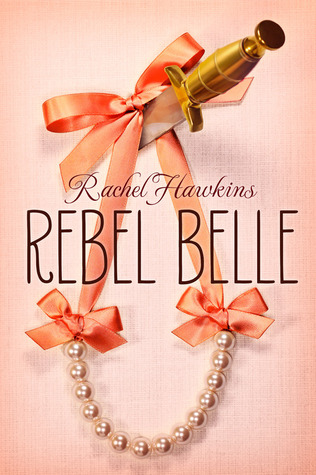 Titel:
Rebel Belle
Författare:
Rachel Hawkins
Serie:
Rebel Belle #1
Sidor:
345
Harper Price, peerless Southern belle, was born ready for a Homecoming tiara. But after a strange run-in at the dance imbues her with incredible abilities, Harper's destiny takes a turn for the seriously weird. She becomes a Paladin, one of an ancient line of guardians with agility, super strength and lethal fighting instincts.

Just when life can't get any more disastrously crazy, Harper finds out who she's charged to protect: David Stark, school reporter, subject of a mysterious prophecy and possibly Harper's least favorite person. But things get complicated when Harper starts falling for him--and discovers that David's own fate could very well be to destroy Earth.
Hex Hall trilogin av Rachel Hawkins är en av mina absoluta favoritserier, och efter det så har hon hamnat på min "Auto-Buy" lista. Jag har självklart velat läsa Rebel Belle sedan jag först hörde talas om den, men samtidigt har jag varit aningen osäker på om jag verkligen skulle tycka om den eller inte. Jag hade dock inte behövt oroa mig, för den här boken överträffade alla mina förväntningar.
Som jag precis nämnde var jag lite osäker på handlingen till den här boken, och det kändes som att det lätt hade kunnat bli lite överdrivet. Men redan från första kapitlet fastnade jag för den här boken, och handlingen var både spännande och rolig. Jag älskade Harpers reaktioner både i början av boken, och efter att hon fått reda på vad att vara en Paladin innebar för hennes del. Båda var väldigt trovärdiga, och det kändes lite som att jag skulle reagera precis likadant om det var mig det gällde. Hela sydstats-känslan var dessutom väldigt charmig, och jag älskade världen som Hawkins byggt upp här. Rebel Belle var en njutning från den första till den sista sidan, och jag tyckte så mycket om den.
Harper Price var en otroligt härlig karaktär, men i riktiga livet kan jag tänka mig att jag skulle haft lite svårt för henne. Hon är väluppfostrad, engagerad, och precis sådär som Southern Belle's
(varför finns det inget bra svenskt ord som passar in?) är i filmer och tv-serier (läs Hart of Dixie). Hon är även smart, smått ironisk, och riktigt badass, och jag absolut älskade hennes berättarröst.
Jag gillade även Bee, Ryan, Harpers mostrar, och David. Harper och Davids kemi var dessutom alldeles fantastisk, och jag älskade deras meningsutbyten.
Rebel Belle var makalöst underhållande, och jag gillade den betydligt mer än vad jag först trodde. Rolig, spännande, och charmig, med ett slut som genast fick mig att längta efter nästa bok i serien. Det här är en bok jag mer än gärna rekommenderar till precis alla.
Favoritcitat:
"Oh, don't worry about it," I said, trying to sound normal even though all I really wanted to do was run inside the garage and try to lift my dad's SUV. You know, for scientific purposes."
"I'm sure you'd hate to miss everyone's felicitations."
David had beaten me in the final round of our sixth-grade spelling bee with that word and now, all these years later, he still tried to drop it into conversation whenever he could."
"I picked up the nearest weapon I could lay my hands on: a stapler. I lifted it, going for "menacing." I admit it lacked a certain elegance, but hey. It was worth a shot. David placed his hand on my arm and pushed it back down.
"What?"
"Just . . . that's embarrassing for all of us," he replied."
8,5 / 10