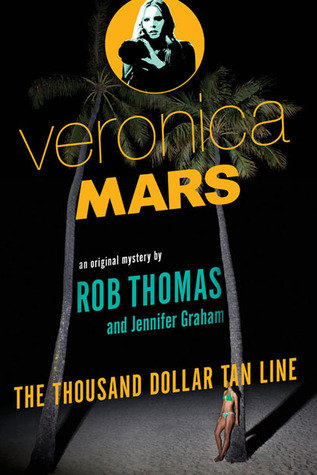 Titel: The Thousand Dollar Tan Line
Författare: Rob Thomas & Jennifer Graham
Serie: Veronica Mars #1
Sidor: 324
Spoilervarning! Spoilers från Veronica Mars filmen förekommer i summeringen.
Ten years after graduating from high school in Neptune, California, Veronica Mars is back in the land of sun, sand, crime, and corruption. She's traded in her law degree for her old private investigating license, struggling to keep Mars Investigations afloat on the scant cash earned by catching cheating spouses until she can score her first big case.
Now it's spring break, and college students descend on Neptune, transforming the beaches and boardwalks into a frenzied, week-long rave. When a girl disappears from a party, Veronica is called in to investigate. But this is no simple missing person's case; the house the girl vanished from belongs to a man with serious criminal ties, and soon Veronica is plunged into a dangerous underworld of drugs and organized crime. And when a major break in the investigation has a shocking connection to Veronica's past, the case hits closer to home than she ever imagined.
Veronica Mars är en av mina absoluta favorit tv-serier, och jag var så glad när nyheten om en fortsättning i form av både en film och en bokserie kom. Filmen var fantastisk, och självklart var jag tvungen att ha även boken. Det här är dock kanske ingenting för dem som inte är insatta i både tv-serien och filmen, men för ett fan är den här boken alldeles perfekt och jag absolut älskade den.
Handlingen utspelar sig ett par månader efter filmens slut, och som vanligt får Veronica ett nytt fall att lösa. Det jag älskade mest med den här boken var att den kändes exakt som ett Veronica Mars avsnitt, och hela tiden medan jag läste så såg jag det som en film i huvudet. Som jag nämnde ovan så är det inte en bok för dem som inte har koll på tv-serien, det är många internskämt och små bi-roller av gamla karaktärer, något som jag personligen älskade, men som kan vara svårt att förstå om man inte är insatt. Själva mysteriet var som vanligt både väldigt spännande, och fullt av plottwister, och boken lyckades med att överraska mig flera gånger.
Karaktärerna är alldeles fenomenala, precis som vanligt, och jag älskar dem så mycket. Veronica Mars är enastående. Hon är tuff, sarkastisk, och smart, och jag älskade hennes tankar och kommentarer. Keith Mars är min favoritpappa, och relationen mellan honom och Veronica är så fin.
Jag älskar Wallace, Mac, Logan, Weevil..ja, till och med Dick, men jag önskar att vissa utav dem skulle haft större roller den här gången, och jag hade velat se betydligt mer av Logan och Veronica tillsammans.
I det stora hela så är The Thousand Dollar Tan Line ett fantastiskt komplement till en redan underbar serie, och jag är överlycklig över att vi äntligen får lite fortsättning. Med den här boken bevisar Veronica Mars att hon passar i alla format, och personligen så hoppas jag på många fler böcker i den här serien. Rekommenderas varmt till alla er Marshmallows därute.
"And for about the millionth time in her life she felt an overwhelming gratitude for her best friend. Because she knew he wouldn't mention this afterward; she knew he wouldn't take it as a sign that she was losing her nerve or was in too deep. There weren't many people in this world who would let you be vulnerable and still believe you were strong."

9 / 10