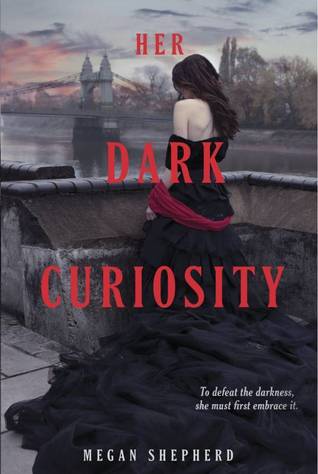 Titel:
Her Dark Curiosity
Författare:
Megan Shepherd
Serie:
The Madman's Daughter #2
Sidor:
420
Spoilervarning! Boken ingår i en serie, spoilers från tidigare böcker förekommer.
Months have passed since Juliet Moreau returned to civilization after escaping her father's island—and the secrets she left behind. Now, back in London once more, she is rebuilding the life she once knew and trying to forget Dr. Moreau's horrific legacy—though someone, or something, hasn't forgotten her.

As people close to Juliet fall victim one by one to a murderer who leaves a macabre calling card of three clawlike slashes, Juliet fears one of her father's creations may have also escaped the island. She is determined to find the killer before Scotland Yard does, though it means awakening sides of herself she had thought long banished, and facing loves from her past she never expected to see again.

As Juliet strives to stop a killer while searching for a serum to cure her own worsening illness, she finds herself once more in the midst of a world of scandal and danger. Her heart torn in two, past bubbling to the surface, life threatened by an obsessive killer—Juliet will be lucky to escape alive.
Jag läste ju första boken, The Madman's Daughter, i den här serien i Februari, och jag gillade den verkligen. Det har dröjt lite för mig att plocka upp den här uppföljaren, men den var till och med ännu bättre än den första boken, och det här är numera en av mina favoritserier.
The Madman's Daughter var något av en retelling på The Island of Dr Moreau, och i Her Dark Curiosity är det istället
The Strange Case of Dr. Jekyll and Mr. Hyde som har inspirerat till handlingen. Jag gillar verkligen att Shepherd fokuserar på olika klassiker, och handlingen i den här serien är bara så himla bra. Jag vet inte riktigt vad mer jag kan säga utan att spoila en massa, men jag älskar både språket, handlingen, och världen.
Karaktärerna är dessutom rätt så fenomenala, och jag absolut älskar Juliet. Hon är så intelligent och tuff, och jag älskar hennes madness (i brist på svenskt ord). Jag gillar dessutom Lucy och Elizabeth mycket, och jag har svårt att bestämma vem av Montgomery och Edward som jag gillar bäst. Kärlekstriangeln tar dessutom inte upp lika mycket av handlingen som den gjorde i första boken, och det är något jag verkligen uppskattar.
Slutet var riktigt spännande, och just nu längtar jag verkligen tills sista boken släpps (i Januari 2015). Her Dark Curiosity är en riktigt bra bok, och jag mer eller mindre älskade den. Jag kan tänka mig att det här inte är en serie för alla, men jag tycker definitivt att ni åtminstonde ska ge den ett försök, den är helt klart värd det.
Favoritcitat:
"Call it sentimentality. Call it curiosity.
Just don't call it madness."
"He smiled grimly, though there was no glee in it, as though for once he understood how heartbreaking this was for me. 'No serum can change who you are. Nor should you change. Genius or madness-it all depends on who's telling the story.' His hand stopped tapping, and that humanity flickered again in his eye. 'You're perfect as you are, my love."