Waiting on Wednesday startades av Jill från
Breaking the Spine
.
Det är till för att visa upp kommande böcker man längtar lite extra till.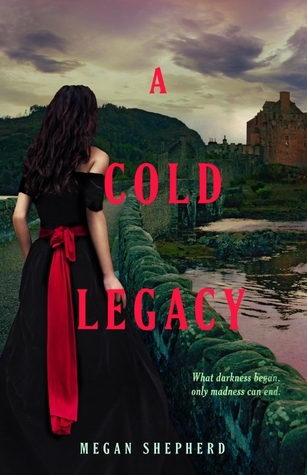 A Cold Legacy av Megan Shepherd
The Madman's Daughter #3
Releasedatum: 27 Januari 2015
After killing the men who tried to steal her father's research, Juliet—along with Montgomery, Lucy, Balthazar, and a deathly ill Edward—has escaped to a remote estate on the Scottish moors. Owned by the enigmatic Elizabeth von Stein, the mansion is full of mysteries and unexplained oddities: dead bodies in the basement, secret passages, and fortune-tellers who seem to know Juliet's secrets. Though it appears to be a safe haven, Juliet fears new dangers may be present within the manor's own walls.

Then Juliet uncovers the truth about the manor's long history of scientific experimentation—and her own intended role in it—forcing her to determine where the line falls between right and wrong, life and death, magic and science, and promises and secrets. And she must decide if she'll follow her father's dark footsteps or her mother's tragic ones, or whether she'll make her own.

With inspiration from Mary Shelley's Frankenstein, this breathless conclusion to the Madman's Daughter trilogy is about the things we'll sacrifice to save those we love—even our own humanity.
Kommentar: Den här serien har kommit att bli en av mina favoriter, och jag ser fram emot