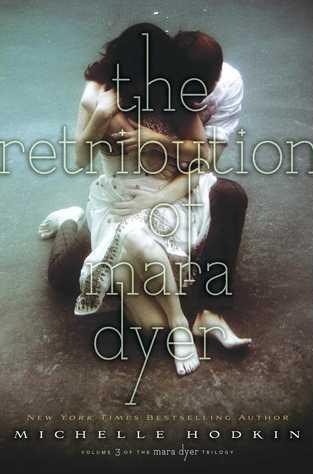 Titel:
The Retribution of Mara Dyer
Författare:
Michelle Hodkin
Serie:
Mara Dyer #3
Sidor:
470
Spoilervarning! Boken ingår i en serie, spoilers från tidigare böcker förekommer.
Mara Dyer wants to believe there's more to the lies she's been told.
There is.

She doesn't stop to think about where her quest for the truth might lead.
She should.

She never had to imagine how far she would go for vengeance.
She will now.

Loyalties are betrayed, guilt and innocence tangle, and fate and chance collide in this shocking conclusion to Mara Dyer's story. Retribution has arrived.
Det här har varit en av mina absoluta favoritserier sedan jag läste den första boken i slutet av 2011. Väntan på den här sista boken i trilogin har varit lång, och när den väl anlände var mina förväntningar redan skyhöga. Men som tur var levde The Retribution of Mara Dyer helt klart upp till dessa, och jag absolut älskade den här boken.
Handlingen är sjukt creepy, och jag älskar alla plot twister som Hodkin bjuder på. Jag gillar dessutom att man fortfarande emellanåt är tveksam till om saker och ting är på riktigt eller inte, och The Retribution of Mara Dyer innehöll en hel del obehagliga scener. Det är även många frågor jag vill ha svar på, och jag tycker att som en avlutande del så är den här boken extremt bra. Äntligen förstår jag hur allt hänger ihop, vad som är på riktigt eller inte, och jag är mer än nöjd över hur allt slutar.
Karaktärerna är alldeles fenomenala, och jag älskar dem så mycket. Mara är fantastisk, och jag absolut avgudar hur hon växer i sig själv och sina krafter, och att hon är långt ifrån genomgod. Och om Noah Shaw lever eller inte? Markera för spoilers -->

Åh, vad skönt att han levde, det var ett tag när jag var riktigt orolig. Det var dock lite råkigt att han var frånvarande i större delen av boken, men jag gillar ändå hur det liksom blev lite av ett mysterium. Relationen mellan Mara och Noah är dessutom fruktansvärt fin, och jag absolut älskar dem tillsammans

, spoilers slut. I övrigt så älskar jag Jamie (han är ju så charmig och rolig) och Daniel, och jag gillade Stella.
Slutet var som sagt riktigt bra, och jag satt som på nålar ett tag. Det enda jag tyckte var lite jobbigt var att, markera för spoilers --> det ska vara en massa problem för Mara och Noah att vara tillsammans. Alltså jag förstår varför, men jag gillar det inte. Jag är ju liksom ett sucker för ett HEA, och det här slutet känns aningen för bittersweet, spoilers slut. Och sista stycket var ju bara helt perfekt!
The Retribution of Mara Dyer är en enastående bok, skrämmande och spännande, och ett mycket bra avslut på en fantastisk serie. Rekommenderas varmt!
Favoritcitat:
"I looked up at the video camera and stared. Then raised my hand and gave it the middle finger.
"I thought you were going to give it the District Twelve salute," Jamie said."
"Everyone's a little crazy. Some people just hide it better than others."
"How are we supposed to get in?"
Stella kicked the metal shutter.
"Fool of a Took!" Jamie hissed through his teeth. "If someone's in there, they probably heard that."