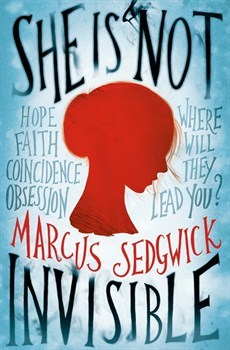 Titel:
She Is Not Invisible
Författare:
Marcus Sedgwick
Serie:
-
Sidor:
354
Laureth Peak's father has taught her to look for recurring events, patterns, and numbers - a skill at which she's remarkably talented.

Her secret: she is blind.

But when her father goes missing, Laureth and her 7-year-old brother Benjamin are thrust into a mystery that takes them to New York City where surviving will take all her skill at spotting the amazing, shocking, and sometimes dangerous connections in a world full of darkness.

She Is Not Invisible is an intricate puzzle of a novel that sheds a light on the delicate ties that bind people to each other.
Den största anledningen till varför jag först köpte den här boken är faktiskt för att jag älskar dess omslag. Jag hade ingen aning riktigt vad jag skulle förvänta mig när jag väl började läsa, och blev därför mycket positivt överraskad av She Is Not Invisible.
She Is Not Invisible har en ganska stor filosofisk
ådra, och jag kan mycket väl tänka mig att det här inte är en bok som passar alla. Själv så älskade jag handlingen med allt prat om sammanträffanden, pappans anteckningar, och mysteriet om pappans försvinnande. Jag gillar verkligen att det känns som att jag lärt mig en massa under läsningens gång, och alla intressanta frågeställningar som uppstår. Jag vill egentligen inte säga särskilt mycket mer om handlingen, utan jag tycker att det här är en bok man mår bäst av att uppleva själv.
Om handlingen var bokens starkaste sida, så var tyvärr karaktärerna dess svagaste, och jag känner aldrig att jag riktigt connectade med Laureth. Vad som hade potentialen att bli en väldigt intressant protagonist föll istället platt, och även om jag inte ogillar Laureth, så hade jag ändå svårt att bry mig om henne. Desto mer gillade jag dock Benjamin och hans korp Stan, så himla söta.
She Is Not Invisible var en riktigt bra bok, och den hade mycket väl kunnat bli en fullpoängare om jag bara fastnat för huvudkaraktären. Idag blir betyget istället ett starkt gillar, och personligen så ser jag mycket fram emot att läsa mer av Marcus Sedgwick i framtiden. Rekommenderas.