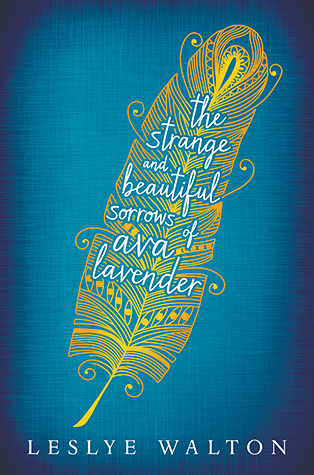 Titel:
The Strange and Beautiful Sorrows of Ava Lavender
Författare:
Leslye Walton
Serie:
-
Sidor:
301
Love makes us such fools...

Pain in love appears to be a Roux family birthright, and for Ava Lavender, a girl born with the wings of a bird, it is key to her inheritance.

Longing to fit in with her peers, Ava ventures away from home, ill-prepared for what awaits her in a world that does not know whether to view her as girl or angel.

Ava's quest and her family's saga build to a devastating crescendo until, on the summer solstice, the skies open up, rain and feathers fill the air and Ava's fate is revealed.

A mesmerizing, lyrical tale of longing, desire and the nature of love.
Jag hade inte riktigt någon aning om vad den här boken handlade om, eller vad jag hade att förvänta mig.
Men flertalet
oerhört positiva recensioner gjorde att jag ville läsa den, men tyvärr tror jag att mina förväntningar var lite för höga. Missförstå mig inte, The Strange and Beautiful Sorrows av Ava Lavender är en fantastiskt speciell och vacker bok, men jag hade samtidigt hoppats på något mer.
Det är dock väldigt svårt att prata om den här boken utan att spoila något, så det enda jag tänker säga är att språket är väldigt fint, jag tyckte mycket om karaktärerna, och handlingen är både tragisk och vacker.
The Strange and Beautiful Sorrows av Ava Lavender är helt klart värd att läsa, och jag rekommenderar den gärna.
Titel:
Everwild
Författare:
Neal Shusterman
Serie:
Skinjacker #2
Sidor:
424
Spoilervarning! Boken ingår i en serie, spoilers från tidigare böcker förekommer.
Everlost, the limbo land of dead children, is at war. Nick the "Chocolate Ogre" wants to help the children of Everlost reach the light at the end of the tunnel. Mary Hightower, self-proclaimed queen of lost children and dangerous fanatic, is determined to keep Everlost's children trapped within its limbo for all eternity. Traveling in the memory of the Hindenburg, Mary is spreading her propaganda and attracting Afterlights to her cause at a frightening speed.

Meanwhile, Allie the Outcast travels home to seek out her parents, along with Mikey, who was once the terrifying monster the McGill. Allie is tempted by the seductive thrill of skinjacking the living, until she discovers the shocking truth about skinjackers.
Jag läste första boken i den här serien i våras, och även om den inte var lika bra som jag först förväntat mig, så var det ändå en bok jag tyckte riktigt bra om. Jag beslöt mig dock för att vänta lite med att läsa uppföljaren, och därför har jag inte plockat upp Everwild förrän nu. Och precis som Everlost, så var det en bok jag gillar mycket.
Handlingen är både spännande, och lite kuslig, och det känns som en mardröm att hamna i Everlost istället för att komma till himlen. Dock tycker jag att man i den här boken väntar och väntar på att striden ska börja, och det hände liksom inte så mycket förrän i slutet. Karaktärerna är också bra, jag gillar Nick, Allie, och Mikey, och jag avskyr Mary och Milos. Med ett så spännande slut så hoppas jag på att läsa sista boken i serien inom en snar framtid, och Everwild var för det mesta en riktigt bra bok som jag gärna rekommenderar.