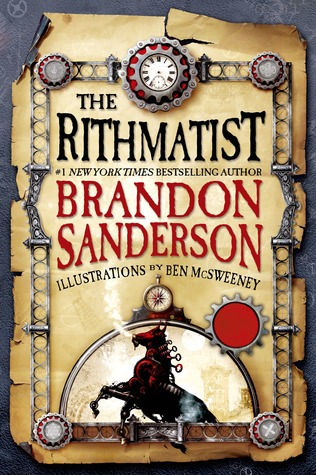 Titel:
The Rithmatist
Författare:
Brandon Sanderson
Serie:
Rithmatist #1
Sidor:
370
More than anything, Joel wants to be a Rithmatist. Rithmatists have the power to infuse life into two-dimensional figures known as Chalklings. Rithmatists are humanity's only defense against the Wild Chalklings. Having nearly overrun the territory of Nebrask, the Wild Chalklings now threaten all of the American Isles.

As the son of a lowly chalkmaker at Armedius Academy, Joel can only watch as Rithmatist students learn the magical art that he would do anything to practice. Then students start disappearing—kidnapped from their rooms at night, leaving trails of blood. Assigned to help the professor who is investigating the crimes, Joel and his friend Melody find themselves on the trail of an unexpected discovery—one that will change Rithmatics—and their world—forever.
Brandon Sanderson är en sådan författare som är nästan omöjlig att undvika, och efter att ha läst boken Steelheart av honom förra året, så har jag velat stifta en ännu närmare bekantskap och The Rithmatist låg därför inte alltför länge i olästhyllan innan jag plockade upp den. Och trots att jag var övertygad om att jag skulle gilla den här boken, så lyckades den ändå att förvåna mig, och The Rithmatist hamnar helt klart bland mina favoriter.
Jag har hört att många är imponerad av hur Sanderson bygger upp sina magisystem, och efter att ha läst den här boken kan jag inget annat än att instämma. Jag är väldigt impad av hur han kan få tvådimensionella kritmonster att halvt skrämma livet ur mig, och jag älskar alla teckningarna och förklaringarna man fick mellan kapitlen. I övrigt så älskade jag The Rithmatists handling, och fann själva mysteriet oerhört spännande. Det enda jag inte gillade var hur, markera för spoilers -->

Joel inte blev en Rithmatist när han fick en ny chans. Jag tror ändå att han kommer att visa sig vara en i slutänden, men jag hoppades att det skulle visa sig redan nu

, spoilers slut.
Karaktärerna var dessutom väldigt charmiga, och jag gillade både Joel och Melody mycket. Deras personligheter var båda speciella, men samtidigt alldeles perfekta tillsammans, och det jag gillar allra mest var att det, iallfall för nu, bara var en vänskap mellan dem. Jag tyckte dessutom mycket om Fitch, allra helst i slutet, och Principal York.
The Rithmatist var en positiv överraskning, och en bok jag mer eller mindre älskade. Jag ser så fram emot fortsättningen (när den nu än ska komma), och jag rekommenderar gärna den här boken.
Favoritcitat:
"It's going to be painful."
"It's a fun tradition."
"So was witch-burning," Melody said. "Unless you were the witch."