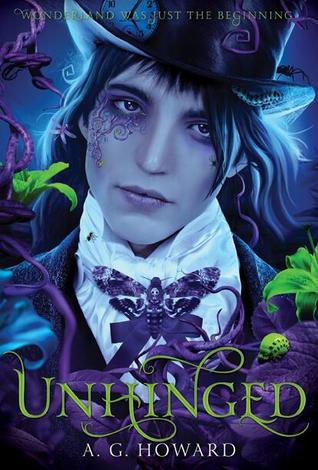 Titel:
Unhinged
Författare:
A.G. Howard
Serie:
Splintered #2
Sidor:
387
Spoilervarning! Boken ingår i en serie, spoilers från tidigare böcker förekommer.
Alyssa Gardner has been down the rabbit hole and faced the bandersnatch. She saved the life of Jeb, the guy she loves, and escaped the machinations of the disturbingly seductive Morpheus and the vindictive Queen Red. Now all she has to do is graduate high school and make it through prom so she can attend the prestigious art school in London she's always dreamed of.

That would be easier without her mother, freshly released from an asylum, acting overly protective and suspicious. And it would be much simpler if the mysterious Morpheus didn't show up for school one day to tempt her with another dangerous quest in the dark, challenging Wonderland—where she (partly) belongs.

As prom and graduation creep closer, Alyssa juggles Morpheus's unsettling presence in her real world with trying to tell Jeb the truth about a past he's forgotten. Glimpses of Wonderland start to bleed through her art and into her world in very disturbing ways, and Morpheus warns that Queen Red won't be far behind.

If Alyssa stays in the human realm, she could endanger Jeb, her parents, and everyone she loves. But if she steps through the rabbit hole again, she'll face a deadly battle that could cost more than just her head.
Efter att ha läst den första boken i den här serien i februari i år så beställde jag genast hem fortsättningen. Men tyvärr har det tagit mig ända tills nu att plocka upp Unhinged, och det ångrar jag lite, för även om den var snäppet sämre än Splintered så var den fortfarande en mycket bra bok.
Unhinged utspelar sig i våran värld istället för i Wonderland, och jag gillade det betydligt mer än vad jag först trodde att jag skulle göra. Det var särskilt intressant att se hur Wonderlands galenskaper infiltrerade våran värld, och själva handlingen är bara så underbart kuslig och aningen konstig. Dessutom tycker jag väldigt mycket om författarens språk, och finner det både stämningsfullt och vackert.
Men om handlingen, världen, och språket glänser, så är karaktärerna desto sämre, och av de tre huvudrollerna så var det bara Morpheus jag faktiskt gillar. Visst, han kanske är aningen opålitlig, och väldigt svår att veta var man har honom, men han är åtminstonde en bra person. Och åh, så charmig! Alyssa och Jeb var däremot så oerhört frustrerande att jag var nära att slänga boken i väggen vid upprepade tillfällen. Alyssa, som var så charmig och smart i första boken, var här mest bara dum. Hon vägrade att se saker för vad dem var, att följa de mest simpla ledtrådarna, hon gnällde efter Jeb, och skyllde hela tiden allt på Morpheus, och jag var bara så trött. Varför ska du vara drottning om du inte ens bryr dig om Wonderland?
Och Jeb var, som vanligt, en första klassens douche, och jag förstår inte varför han framställs som den snälla killen. Seriöst? Han är svartsjuk, han bossar över Alyssa, och han är mer intresserad av sin karriär och att göra sig ett namn, än vad han är över hennes känslor.
Och det där,

spoilers

-->

frieriet

, spoiler slut, sedan. Skämtar du med mig eller? Som ni förstår är jag aningen /rage quit över karaktärerna, och jag hoppas verkligen att de skärper till sig i nästa bok.
Slutet var dock superspännande, och jag absolut älskade det. Jag ser så mycket fram emot den avslutande delen som kommer i början av nästa år. Och även om karaktärerna frustrerade mig här, så är det ändå en serie jag mer än gärna rekommenderar.
Favoritcitat:
"All I have to do is set the power free. Escape the chains of humanity, let madness be my guide. If I forget everything but Wonderland, I can become beautiful pandemonium."
"Shh." I squeeze his hand. His palm feels clammy. "We have to keep it down, okay? We don't want my dad coming in."
He grits his teeth against more shivers. "Always knew I'd end up in your bed . . . and hear you say those words one day." He manages a smirk.
Jeb snarls. "Unbelievable. Even when he's at death's door he's a tool." He arranges a pillow beneath Morpheus's neck. "Why don't you keep your mouth shut while we help you."
Morpheus laughs weakly, his skin flashing with blue light. "What say Alyssa"--his breath rattles--"give my mouth something else to do?"