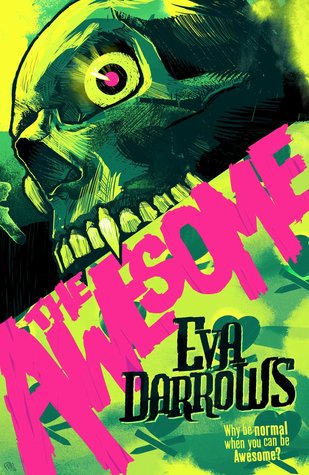 Titel:
The Awesome
Författare:
Eva Darrows
Serie:
-
Sidor:
246
Seventeen-year-old Maggie Cunningham is tough, smart, and sassy. She's also not like other girls her age, but then, who would be when the family business is monster hunting? Combat boots, ratty hooded sweatshirts, and hair worn short so nothing with claws can get a grip, Maggie's concerns in life slant more toward survival than fashion or boys. Which presents a problem when Maggie's mother informs Maggie that she can't get her journeyman's license for hunting until she loses her virginity.

Something about virgin blood turning vampires into pointy rage monsters. Blood and gore and insides being on the outside and all that.

Maggie's battled ghosts and goblins and her fair share of house brownies, but finding herself a boy - fitting in with her peers - proves a much more daunting task than any monster hunt. Did you know normal girls don't stuff their bras with holy water balloons? Nor do they carry wooden stakes in their waistbands. And they care about things like "matching" and "footwear." Of course, they also can't clean a gun blindfolded, shoot a crossbow, or exorcise ghosts from a house. Which means they're lame and Maggie's not. Because Maggie's awesome. The Awesome, in fact. Just ask her. She'd be more than happy to tell you.

After she finds herself a date.
Det här var ett av mina mest efterlängtade boksläpp under 2015, och jag har velat läsa den sedan jag först hörde talas om boken. Mina förväntningar var därför väldigt höga
, men som tur var så levde The Awesome helt klart upp till dessa, och jag absolut älskade den.
Handlingen är väldigt charmig och rolig, och om man gillar lite torr och sarkastisk humor så är The Awesome definitivt boken för dig. Den fick mig att skratta tills jag nästan grät, och det var länge sedan jag läste en bok där humorn passade mig så ypperligt. Trots att boken bara är 246 sidor lång så hinner mycket hända, och jag gillar särskilt hur handlingen hanterar ämnet sex och dess starka feministiska budskap. Mer sånt, tack.
Karaktärerna är fantastiska och jag gillar särskilt Maggie och hennes mamma Janice. Båda är extremt bad ass, kvicktänkta och roliga, och bara deras relation till varandra gjorde boken mer än läsvärd i mina ögon. Dessutom tyckte jag mycket om bi-karaktärerna Lauren, Ian och Jeff.
Om det är en bok som lever upp till sitt namn så är det definitivt The Awesome och jag var bara så förtjust i hela alltet. Jag hoppas helt klart på att det här ska bli en serie, för jag vill bara ha mer. Men om inte så står den sig ändå utmärkt som en stand-alone, och det är en bok som jag mer än gärna rekommenderar. Läs, skratta och njut.
Favoritcitat:
"Parties and The Sex went hand in hand almost as closely as watching Xena reruns and questioning my sexuality."