Titel:
Please Don't Tell
Författare:
Laura Tims
Serie:
-
Sidor:
330
Joy killed Adam Gordon—at least, that's what she thinks. The night of the party is hazy at best. But she knows what Adam did to her twin sister, Grace, and she knows he had to pay for it.

What Joy doesn't expect is that someone else saw what happened. And one night a note is shoved through her open window, threatening Joy that all will be revealed. Now the anonymous blackmailer starts using Joy to expose the secrets of their placid hometown. And as the demands escalate, Joy must somehow uncover the blackmailer's identity before Joy is forced to make a terrible choice.
Please Don't Tell är även den en sådan bok jag varit nyfiken på sedan jag först hörde talas om den, och givetvis fick den inte ligga oläst i hyllan i mer än ett par dagar. En väldigt spännande och hjärtskärande berättelse, full av hemligheter och twister, samt med vansinnigt intressanta och trasiga karaktär gjorde att jag tyckte väldigt mycket om den. Och jag såg helt ärligt inte det slutet komma. Rekommenderas gärna.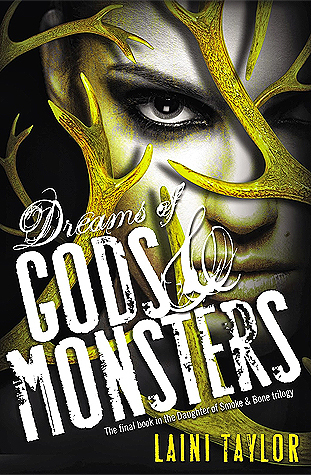 Titel:
Dreams of Gods and Monsters
Författare:
Laini Taylor
Serie:
Daughter of Smoke and Bone #3
Sidor:
613
Spoilervarning! Boken ingår i en serie, spoilers från tidigare böcker förekommer.
By way of a staggering deception, Karou has taken control of the chimaera rebellion and is intent on steering its course away from dead-end vengeance. The future rests on her, if there can even be a future for the chimaera in war-ravaged Eretz.

Common enemy, common cause.

When Jael's brutal seraph army trespasses into the human world, the unthinkable becomes essential, and Karou and Akiva must ally their enemy armies against the threat. It is a twisted version of their long-ago dream, and they begin to hope that it might forge a way forward for their people.

And, perhaps, for themselves. Toward a new way of living, and maybe even love.
** spoilers i resten av summeringen, hela finns att se här.
Efter att ha läst ut Days of Blood and Starlight så fortsatte jag direkt med Dreams of Gods and Monsters. Och jag älskade den! Handlingen var fantastisk, karaktärerna är jättehärliga, och språket är gudomligt. Jag är lite kluven till själva slutet (mest för att jag är så jäkla nyfiken), men i det stora hela så tror jag att jag älskade det. Så rekommenderas, så mycket.
Favoritcitat:
"Your entire being can become a scream. At the edge of a hurled knife, that fast. Karou's did. She wasn't flesh and blood in that instant but only air rushing in to gather for a scream that might never end."
"Once upon a time,an angel and a devil pressed their hands to their hearts
and started the apocalypse."