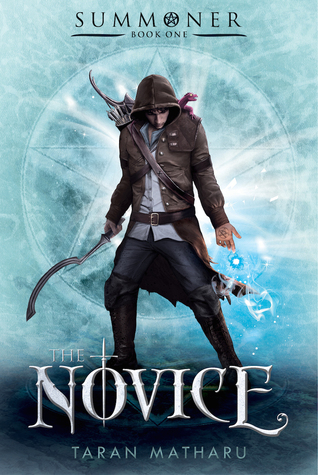 Titel:
The Novice
Författare:
Taran Matharu
Serie:
Summoner #1
Sidor:
355
When blacksmith apprentice Fletcher discovers that he has the ability to summon demons from another world, he travels to Adept Military Academy. There the gifted are trained in the art of summoning. Fletcher is put through grueling training as a battlemage to fight in the Hominum Empire's war against orcs. He must tread carefully while training alongside children of powerful nobles. The power hungry, those seeking alliances, and the fear of betrayal surround him. Fletcher finds himself caught in the middle of powerful forces, with only his demon Ignatius for help.

As the pieces on the board maneuver for supremacy, Fletcher must decide where his loyalties lie. The fate of an empire is in his hands. The Novice is the first in a trilogy about Fletcher, his demon Ignatius, and the war against the Orcs.
The Novice var något av ett impulsköp. Jag hade inte sett några recensioner på den eller varit särskilt intresserad förrän jag såg omslaget till andra boken (som jag tycker är dösnyggt). Jag passade på att beställa hem den första boken på en gång, och jag måste säga att den var riktigt bra.

Handlingen var spännande, även om jag också uppfattade den som aningen långsam. Det känns dock som ett bra avstamp för serien och jag gillade särskilt skolan och duellerna där i slutet. Det är mycket magi och demoner, och världen med sin blandning av människor, dvärgar, alver och orcs för tankarna till Sagan om ringen (eller World of Warcraft med, för den delen). Själv hade jag dock önskat mig lite mer action, och jag hoppas så att det blir lite mer krig mot orcsen i nästa bok.

När det kommer till karaktärerna så tyckte jag mycket om Fletcher. Han var modig och snabbtänkt, och jag älskade demonen Ignatius. Jag tyckte även mycket om Sylva och Othello. Jag gillade också vänskapsbanden mellan karaktärerna, och att det inte var talan om någon romans i den här boken.

The Novice var riktigt bra. Spännande och snabbläst, och med en mycket fascinerande värld. Jag ser riktigt mycket fram emot uppföljaren, och tänker beställa hem den snarast. Rekommenderas gärna.